As you may have noticed, I love impact toys. I especially love weird impact toys: implements that would make good conversation starters at kink events, and that widen the eyes of tops and bottoms alike. Indie toymakers are often the best companies to look at when you want something unusual. I am lucky enough to own several impact implements from indie artisans; here are some reviews of them…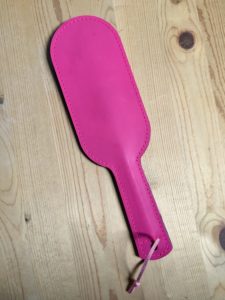 My leather paddle by Oddo Leather is bright pink and adorable. It's made from latigo leather and contains two metal rods which give it its structural stability. It's got that signature delicious leather smell, and comes in a variety of colors.
As a top: The leather handle is grippy enough that it stays securely in my hand even if I get sweaty. There's a little suede strap I use to hang the paddle for storage but that isn't long enough for me to stick my wrist through; I'd like to replace it with a longer one so I can have a little more assurance that I won't accidentally throw the paddle while using it. The edges of the handle are a little rough and sometimes dig into my hand if I'm holding the toy tightly, which I generally am. I like the satisfyingly loud noise this paddle makes when it hits skin. Some particularly hard hits cause the internal metal rods to bend a bit, but it's easy to bend the paddle back into its original shape.
As a bottom: As you might expect from a leather paddle, this one is pretty stingy. If a blow lands not-exactly-flat against my skin, it can feel thuddier, but not by much. On me, this paddle doesn't bruise, it just reddens the area. It also doesn't get above a 5 or 6 on the pain scale, even when a lot of power is put into the hits – so while it might be a good choice for an impact beginner, or for someone who eroticizes the sound of impact moreso than the pain, for me it just leaves me wanting more.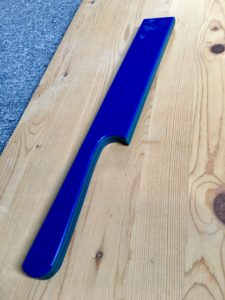 My acrylic layered paddle by Funkit Toys was custom-made to my specifications; a lot of stuff by Funkit is highly customizable like this. I asked for it to be made in blue and green, and for it to have five layers of acrylic; you can order anywhere from two to six layers in your paddle, and the more you get, the thuddier it'll be. This paddle is also the most affordable option in this post, with its price ranging from $10 (two layers) to $22 (six layers).
As a top: I love how smooth, heavy, and well-constructed this paddle feels in my hand. The top of the handle, where it meets the blade, is made to resemble the analogous part on a chef's knife, because Funkit Toys' lead fucksmith Kenton is also a chef – so my index finger fits comfortably in that spot when I hold the paddle, though the way I spank, I usually like a little more momentum and hold the toy further down its handle to allow for that. The paddle's impact surfaces are glossy, while its edges are matte, making the handle sufficiently grippy without sacrificing the beauty of that shiny finish. I would like this one a bit more if it was shorter and wider, because that's my preferred shape to hit people with, but as is, it's still wonderful.
As a bottom: This paddle is so mean! When it lands flat against the skin, it's got a sharp stingy bite with a little thud to back it up – but when it lands a little off-kilter, or when I'm purposely hit with the side of it, it feels much thuddier, like getting thunked with a big heavy metal pipe. This toy can get up very high on the pain scale, in both stinginess and thuddiness. Depending on how it's wielded, it can leave broad bruises or more focused stripes. Thuddier hits (especially those from the rounded edge of the paddle) get so deep that they might still ache days later.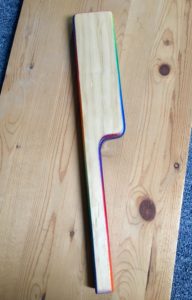 My rainbow paddle by Funkit Toys is made of wood and gets its vivid, distinctive colors from spraypaint (with a clear coat on top). Kenton makes wooden paddles in several different shapes and sizes; this one is 16 inches long, and wider than the acrylic paddle but still fairly narrow for a paddle.
As a top: This paddle is made of very light wood, so in use it barely feels like I'm hefting anything at all. However, sometimes this makes it hard for me to gauge exactly how hard I'm hitting. The handle is entirely straight and a bit slippery; I wish it had a wrist strap for added stability. The wood makes a really satisfying smacking noise when it hits.
As a bottom: I get a surface-level sting from this paddle that falls more on the "bad type of pain" side of the spectrum for me, which would make it ideal for a true punishment spanking but also means it's never gonna be a favorite of mine. I do sort of like it as a warm-up, used fairly lightly, because the broad stingy swats get my skin all tingly and sensitive and ready for more hits – but it gets up into high pain levels really easily and I can't take much of it after that. It reddens my skin but I have yet to obtain any lasting marks from it, partly because it hurts so much that I always stop before I get to that point.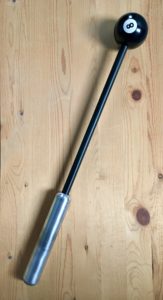 The Billiard Banger by KinkMachineWorks is such an inventive piece of kink wizardry. It's a literal billiard ball at the end of a metal and hard plastic rod. Mine is a black 8-ball, which I chose for its #WitchyFemme vibes, but you can get a wide variety of different colors and numbers.
As a top: I love the heaviness of this toy – it's not so heavy as to be hard to wield, but just heavy enough to feel substantial, well-made, and powerful. My arm does get a little tired if I'm swingin' away for a good while, though. I thought the smooth metal handle on mine would be difficult to grip (KMW also sells a ribbed-handle version, if that's a concern of yours too), but it's got enough grippiness to it that this usually isn't an issue. Depending on what kind of effect I want to achieve, I can bounce the ball against skin for a series of quick hits, or follow through with my swing for big, strong, thuddy hits.
As a bottom: Getting beat with a billiard ball is a thuddy and penetrating sensation, like getting punched by a tiny fist. On me, it rarely creates bruises, but it leaves sore spots under the skin that I can still feel days later. Having the same spot get hit over and over again is always a super-painful thing for me, but particularly so with this toy; the thuddiness stacks up and creates an almost bone-deep ache that I mostly really like. The toy's handle and the billiard ball itself both have a naturally cold temperature, so rolling those parts of the toy along my skin between hits can be a soothing and surprising sensation.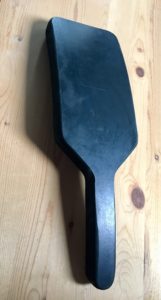 The 1″-thick rubber paddle from KinkMachineWorks is a thing to behold: thick, heavy, and intimidating. It reliably gets an "Oh, wow" or a "Yikes!" whenever I show it to a fellow kinkster.
As a top: Most of this paddle's weight is concentrated in the business end rather than the handle, so it can sometimes feel a little weighty and difficult to aim effectively. The flex of the rubber gives it a nice bounce, so while it's heavy, my arm doesn't get especially tired from wielding it. Its heaviness also means you don't have to put much effort into your swing to get a big, strong hit out of it; however, this also means you have to check in with your spankee more to make sure you're not overdoing it. The rubber causes my hands to smell like a truckstop after I'm done using this paddle, which I don't really mind, but I'd prefer if it didn't.
As a bottom: Wow, ouch, this one hurts a whole goddamn lot. Hits from this paddle's flat impact surfaces feel thuddy with a topcoat of stinginess, whereas hits from the sides or end of the paddle feel thuddy like a punch. I imagine that this toy could leave some pretty gnarly bruises, but I've never been hit with it hard enough to find out, because it gets so painful so easily that I always back off before the point of bruising.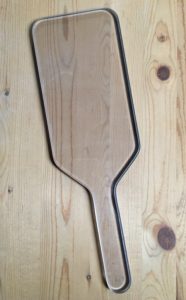 My Lexan paddle from KinkMachineWorks is one of my all-time favorite impact implements. Lexan – also known as polycarbonate – is a type of plastic that's very hard and durable, making it ideal for paddlin' with.
As a top: This paddle strikes a good balance between being heavy enough to feel impactful but light enough to be comfortable to wield at all times. I love the shape and size of it: it gives me a lot of surface area with which to smack broad swathes of my bottom's skin, but can also be aimed effectively and precisely when need be. And dammit, you can't beat the view of a butt being slightly squished beneath this see-through paddle.
As a bottom: The reason I love this paddle so much is that it – for me – strikes the ideal balance between thuddy and stingy. The stinginess makes it painful enough to send me into subspace relatively quickly, but it's not all sting, so I don't get burned out on it too fast. Its thuddiness also enables it to bruise me easily and beautifully. I think if I could only keep one impact toy from my entire collection, this is the one I would choose.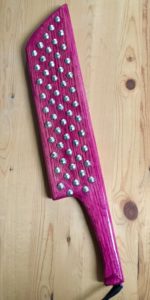 My torquemada from Creative Kink is made of beautiful pink-glazed wood. A "torquemada," so far as I can tell, is a wood paddle that's inlaid with metal studs. Woof.
As a top: This paddle is very big: it's as long as my entire arm from shoulder to wrist, and almost twice as wide as my forearm. While this makes it look extra-menacing, it's not my favorite to wield; it feels a little clunky and hard to manoeuvre effectively (though that might be less true for a bigger/stronger person than I). In addition to the flat side, the studded side, and the thuddy rounded edges, I can also hit someone (lightly) with that pointy tip at the top; it's not as sharp as it looks, and it's sort of like whacking someone with a dull pickaxe. This is a highly versatile toy!
As a bottom: The flat, non-studded side of this paddle feels as stingy as wooden paddles usually do (i.e. very), though its heaviness gives it a little bit of thud that balances it out nicely. It reddens my skin real quick and hurts a whole helluva lot. The studded side is even worse: the studs are rounded, rather than sharp, so they're probably not gonna break skin or anything, but they do add some extra oomph to the hits, making this one of the most painful products in this post. I also like that the studs feel cold while the rest of the paddle remains room-temperature; it's a little extra sensory weirdness that adds to the overall effect, and could be an especially fun tease if I was, say, blindfolded and tied up.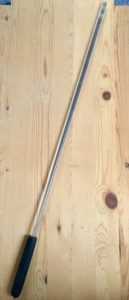 I requested the Lexan cane from Creative Kink because I already owned the aforementioned Lexan paddle and knew I liked this material for impact play. It's so swishy and cute and reminds me of a wand Ollivander would pick out for the kinkiest wizard.
As a top: The handle of this cane is made of a grippy black foam; this toy was clearly designed by actual kinksters who understand the problems faced by impact tops! The Lexan is firm enough to allow for a stern caning, but also has juuust enough flex that I can pull it back with one hand and let it spring forward onto whoever I'm spanking, in an intense but precisely aimable motion. The significant length of this cane gives me the freedom to slice it down on both of my spankee's buttcheeks, or only one at a time, whichever I want.
As a bottom: To my surprise, I find this cane never hurts thaaat badly, no matter how hard I'm getting hit by it. It's more thuddy than stingy, but never gets beyond a 5-out-of-10 thud for me. It leaves pleasing red stripes on my skin, and occasional mildly raised welts, but isn't mean enough to create bruises. While this description might make it sound lacklustre, I actually love getting beat by this cane; the pain is enough to send me into subspace after a little while, without being so bad as to distress me.

The aluminum cane by Creative Kink is a formidable thing; when Suz first felt mine, her eyes went wide and she said, "Oh, this one would be mean!" She is right. It is.
As a top: The weight of this cane makes it feel a little top-heavy in use sometimes, so I can't always aim as precisely as I would like to. I also wish it made a bit more noise; it's almost silent as skin absorbs its impact. It has the same grippy foam handle as the aforementioned Lexan cane, so it stays put in my hand when I hold it. I feel a little apprehensive wielding this toy, because it's so heavy and hard that I feel like I could accidentally injure a partner pretty easily; I'd need to be very careful and focused to feel comfortable using it on someone. But damn, it makes me feel powerful.
As a bottom: Canes are traditionally stingy but this is perhaps the thuddiest one that has ever existed. If I couldn't see what I was getting hit with, I'd have no way of knowing it was a cane and not a thick metal pipe. I love that it's naturally cold; that adds some sensory excitement to the thuddiness and can be soothing in between hits. As with many heavy thuddy implements, this one bruises quite effectively, and the bruises are gorgeous stripes. Swoon.
What are your favorite impact toys from independent toymakers? Got any Etsy treasure-troves or local artisans to enthuse about?