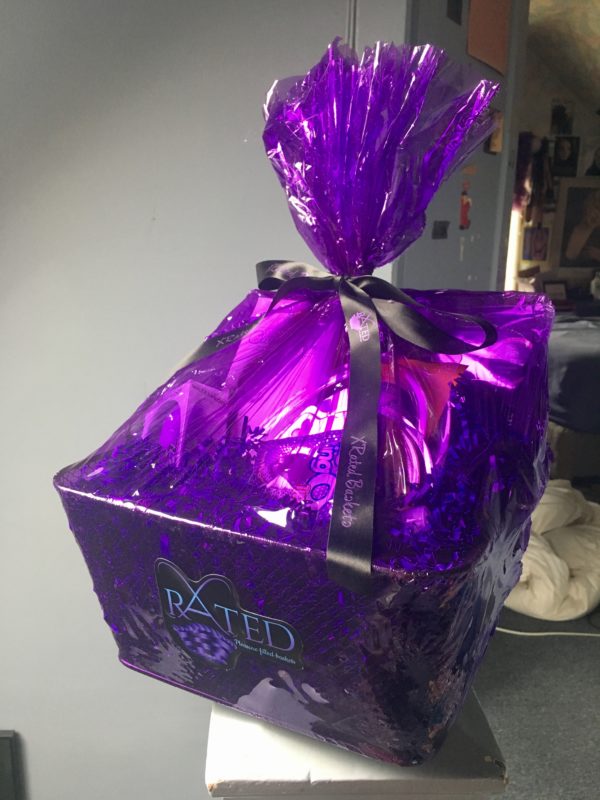 As a fancy femme, I'm a sucker for good presentation. So I definitely oohed and aahed when I pulled my bright-purple XRated Basket out of its shipping box. It's such a good shade of purple, too. Swoon.
I am also partial to anything that comes with pretty-lookin' ribbons, because I get to wear them tied in bows in my hair like the princess I am. #FemmeSexNerd
It's too bad that the appearance of this gift box is the only good thing about it. This is XRatedBaskets' Hers Basket. Let's take a look at what's inside…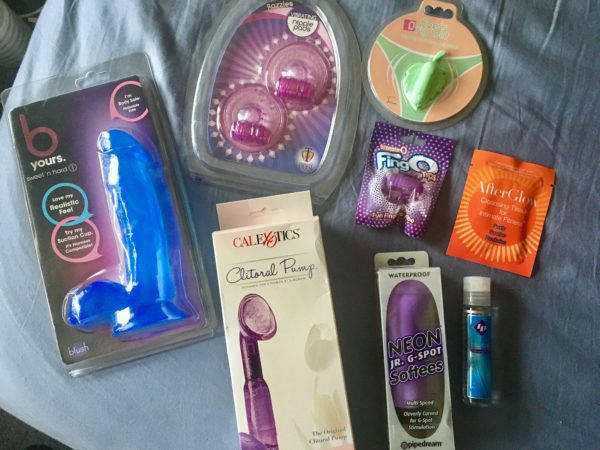 Time for some real talk. Companies that make sex toy "baskets" or "boxes" usually do so by cobbling together seemingly the cheapest, lowest-quality toys they can find, packaging them up nicely, and selling them at a significant markup. This basket is no different.
I actually requested XRatedBaskets' "S&M Basket," because it contains some things that aren't meant to go in or on the genitals – e.g. rope, a paddle, nipple clamps, restraints – so it seemed like a safer bet. Cheap kink toys will typically cause less damage than cheap sex toys, in my experience. But they sent me the Hers Basket instead, which is, frankly, full of stuff I can't and won't use.
Literally, there are eight things in this basket, and seven of them will never make contact with my genitals unless I somehow become possessed by a demon who is cool with porous, potentially toxic materials. There's a PVC dildo, a TPR vibrating clit pump, some TPR "vibrating nipple pads," a jelly fingertip vibe, a squishy PVC G-spot vibe, and a panty vibe shaped like a fig leaf which doesn't specify its material but brags its "battery lasts for up to 30 minutes!"
All of these things claim to be phthalate-free, but there is no regulation in the sex toy industry which obligates companies to tell the truth about phthalate concentrations in their toys. Indeed, one toy that claimed to be phthalate-free was actually found to consist of 61% phthalates when tested in a lab. So that label is essentially meaningless, put there to fool consumers into buying cheap stuff they're led to believe is body-safe.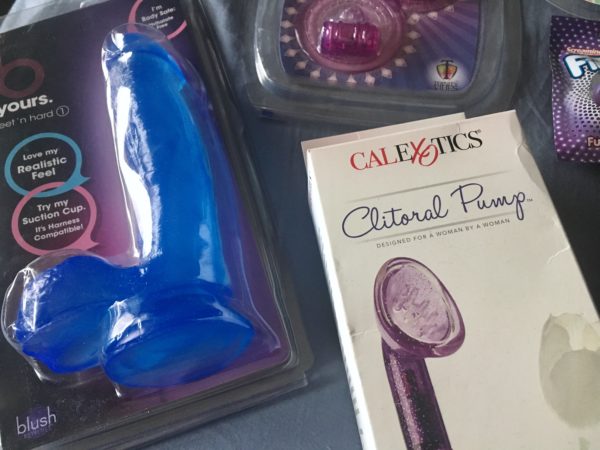 The packaging of this jelly dildo boasts, "I'm body-safe: phthalate-free," but flip it over and it warns, "Use with a condom for maximum hygiene and safety." Condoms don't even totally prevent leaching if a product contains toxic chemicals, though, so it's a moot warning.
To add insult to injury, I thought I might be able to at least use the lube included in this basket, but it contains glycerin and propylene glycol, so that's a hard nope as well.
The one and only thing in this basket that I can safely put in or around my bits is an Afterglow toy wipe – but, y'know, I usually just wash my toys when I'm done using them, and since the toys I use are nonporous and actually phthalate-free, washing them is enough to get them genuinely clean. Including the wipe is a nice gesture, but would be nicer if XRatedBaskets actually cared about your hygiene and health enough to send you toys that won't cling onto your body's bacteria and give you chemical burns inside your orifices.
If you want to get someone a fabulous gift box of sexy items but don't want to spend a lot of money, you're better off buying them stuff that isn't for their genitals, since, as I've said, low-quality sex toys can cause all kinds of health problems. XRatedBaskets has an S&M Basket and a Massage Basket that mostly fit the bill: each contains at least one phthalate-ridden sex toy but mostly non-genital items.
But my honest recommendation is that you buy your amour just one or two really excellent toys instead of trying to get them a zillion things on a shoestring budget. An inexpensive body-safe vibrator and a bottle of good lube will run you less than $50 if you shop smart, and will result in more orgasms and fewer chemical burns than an $100+, jelly-laden gift set put together by a company.
This post was sponsored by XRatedBaskets, and as always, all writing and opinions are my own!