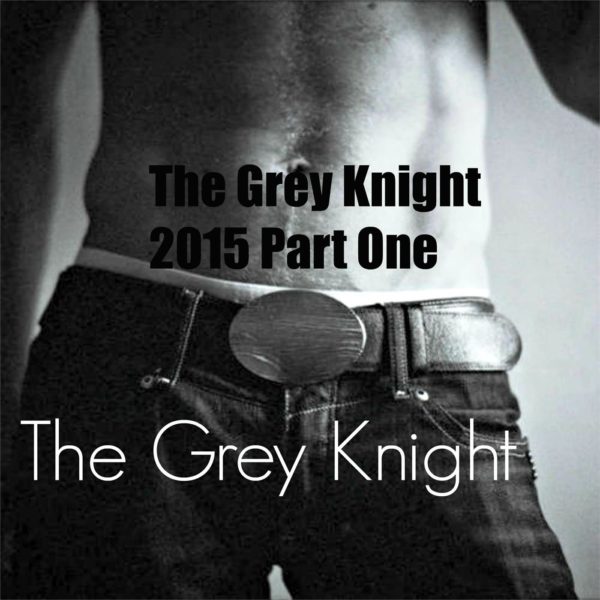 I've gotten into erotic audio in a big way over the past year. It fills a need I didn't even know I had. When I watch porn, the sounds are vitally important to me: moaning, dirty talk, even the ambience of wetness on skin. It's such a crucial part of my experience that if a porn scene is muted or the background music is too loud, I'll turn it off; it has no hope of getting me off.
So of course audio porn is the ideal erotic medium for me. And I'm a tad obsessed.
My tastes in erotic audio are diverse, encompassing multiple creators in multiple styles – but today I'm gonna talk to you about the Grey Knight. He's one of the more popular creators in this genre, at least in my social spheres: fawning links to his audios show up pretty frequently in my Twitter stream and on my Tumblr dashboard. He's all over Spotify and YouTube, he's got a podcast, and his Patreon community is thriving. Dude's branding and output are off the damn charts.
That'd be impressive enough to me, but the audios he creates are worthy of all that attention, and that's even more impressive. His work spans several different styles, kinks, and approaches, so if you're attracted to men (in reality or even just in fantasy), you'll probably be able to find something in his catalogue that excites your ears and your junk.
A current favorite of mine is "You've Got a Mouth On You." It combines several of my biggest kinks: giving head, being instructed in how to please a partner, and Daddy Dom/little girl roleplay. Throughout this audio, the Knight gives the listener (his "little girl") moment-by-moment directions on how to suck him off, all from the perspective of a kind, nurturing Daddy. There's a lot of growling and moaning, but those instructions and encouragements take center stage in this one. Unf.
I also really enjoy "Treat," a sweet, vaguely Halloween-themed (as in "trick or treat") cunnilingus-based audio with a DD/lg dynamic. It's really hard to pull off oral sex in audio form without sounding like a pig at the trough, but the Grey Knight manages it. This one's peppered with verbal encouragement, some mild chastising for wearing a skirt that's too short (!), and satisfying moans.
Beyond your standard sex and kink fare, the Knight also does some more out-there fantasy roleplays: vampires, impregnation, police interrogation, even pirates. I've mostly been listening to these audios on Spotify, where there's very little room for keywords and trigger warnings, and I wish that wasn't so. It would be easier to choose the perfect audio for my current mood if I could know in advance what tone and potential triggers each one contained. Most of the time lately, I've felt like being dominated in a sweet, nurturing, coddling way, and while the Grey Knight has a lot of DD/lg audios along those lines, it's not always easy to find one in a hurry.
I like the Knight's voice, but I do think he comes across as a little smarmy and even dorky sometimes. That's kinda my jam – think nerdy, domly math professor – but it might not be yours. If you like his voice, though, you're in luck: there are hours upon hours of it available online. Sometimes he switches up his timbre or accent to achieve a particular character or archetype, often to great effect. (Y'all know I'm a sucker for voices and impressions.)
Unlike some erotic audio creators, the Knight's recordings rarely feel too scripted or too loose – they strike a good balance between those two extremes, maybe due to his experience working in radio. The yarns he spins feel structured and well-paced enough that I don't lose interest, but there's still usually an improvisational feel to the things he says. Just like real dirty-talk during real sex with a real dom, you get the sense that he knows what he wants to achieve and where he wants to take the scene, but he's also going to go with the flow and do what feels right in the moment.
To say the least, I have jerked off many times while working on this review. And that's the highest compliment I can give to a maker of erotic media. Check out the Grey Knight's audios if you want to try something new, enjoy an ambient fantasy, or just walk around the city with a slutty secret in your headphones.
Heads up: this review was sponsored, but as always, all words and opinions are my own!