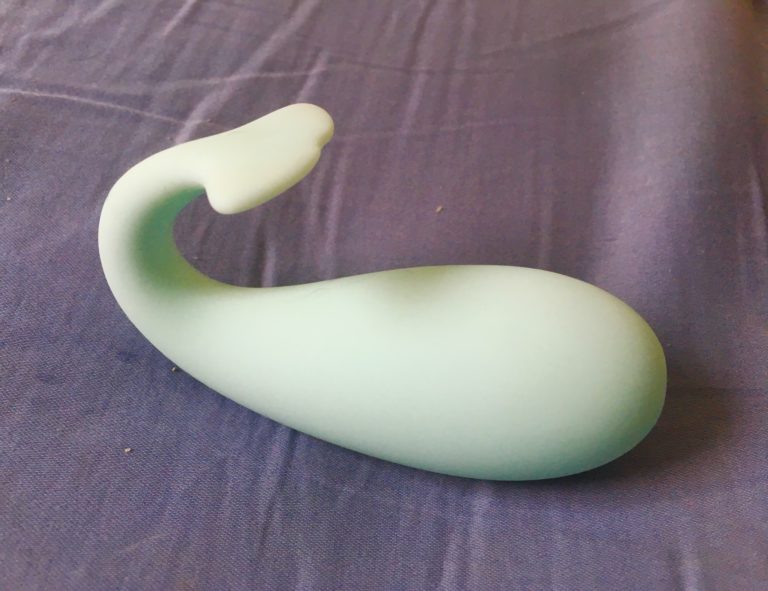 Friends keep asking me what the deal is with the little stuffed cyclops-whale displayed in my room. "It came with a Kegel toy I'm reviewing soon," I always say, which is a strange sentence. #SexToyReviewerLyfe, amirite?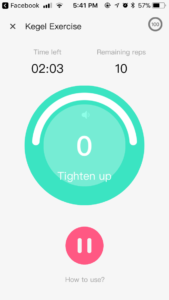 Sistalk recently sent me their Doctor Whale vibrating Kegel exerciser – and that accompanying Doctor Whale stuffed animal. (I don't know what he's a doctor of, nor where he got his medical degree.) It's a cool idea: an insertable vibrator equipped with pressure sensors, so it can vibrate your G-spot pleasurably while also guiding you through a Kegel exercise regimen and sensing how well you're doing on your workout. The toy is controllable via an app called Monster Pub, which is also where you can set up and track your Kegel exercises. You can use Sistalk toys as regular wearable vibrators as well, controlling their vibrations via the app.
Sistalk designed this product well in some ways: its silicone is smooth and soft, it's easy to insert, and it's comfortable to use. The whale's tail sits against my clit but doesn't really vibrate it, so I'll never have an orgasm from this toy alone, but that isn't really its aim. The whale's body is big enough that I can feel it when I squeeze around it, but not so big that it's uncomfortable. To my surprise, the motor is quite good: rumbly and strong enough to please my fickle G-spot. Physically, the toy is well-thought-out.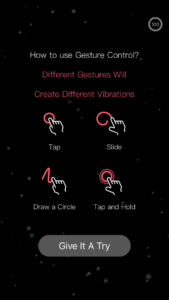 But problems arise once you get into the Bluetooth connectivity and app-controllability. The connection between the toy and my phone is always tenuous at best, usually disconnecting after a couple minutes if not sooner. Other reviewers have experienced this issue too so I know it's not a fluke with my particular toy. Needless to say, it's hard to focus on a Kegel exercise routine when you're concerned the vibe will disconnect at any moment, which it inevitably does.
The app itself is too busy, bursting with options. I've dated enough app developers to be able to hear their tut-tutting in my head as I flip through this app's overburdened menus and screens. There's also a language barrier which makes many of its instructions confusing or downright hilarious (I'm still gigglin' about the Kegel exercise narrator telling me to squeeze my "vageena" tighter).
I think this line of toys has a lot of potential; the designers just need to fix the connectivity issues, tighten up the app, and maybe construct a more stimulating tail for this li'l whale. Until then, I recommend the We-Vibe Sync if you're looking for an app-controllable vibrator, and a good old-fashioned pair of Kegel balls if you want to work on your pelvic musculature. Hopefully Sistalk works out the kinks with their products so lots of folks can enjoy these adorable, health-promoting monsters!
This review was sponsored, and as always, all writing and opinions are my own.