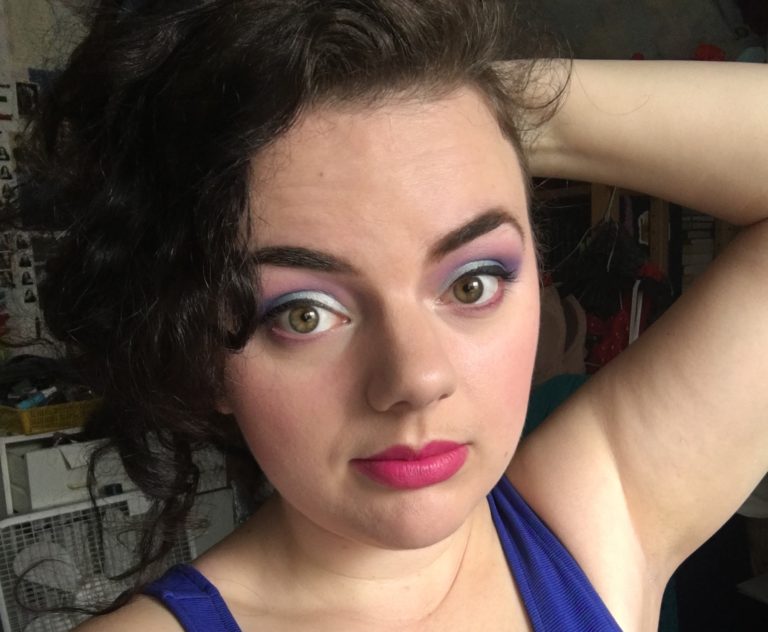 I turn 25 tomorrow! Aaahh!
Birthdays, much like New Year's Eve or the start of a new school year, always feel to me like a time of renewal and overhaul. I often make lists of goals and intentions for the coming year when one of these milestones rolls around, and this time is no different.
However, a lot of the intentions that came to mind for me around this birthday have been fashion- or beauty-related. It makes sense: I'm noticing lately, even more than usual, how massively my presentation can affect my mood and demeanor. So I'm setting myself the following style objectives for the year to come – all in the service of feeling good moreso even than looking good.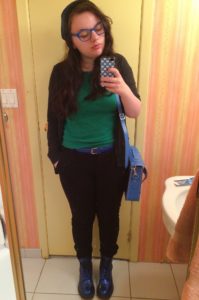 Fuck pants forever. Look. You wear pants if you want to. I'm sure they look great on you. But I just don't think I can do it anymore.
Oh, I own a couple pairs of jeans, for those once-in-a-blue-moon spells where I want to dress like Shane from The L Word or a male British underwear model on his day off. And I certainly own plenty of leggings, which I layer over and lounge in. But by and large, I am a skirts-and-dresses girl, and pants can fuck right off.
I can't tell you how many hours I've sacrificed questing for the pair of pants that would change my mind on this matter. The closest I've ever come were some vintage skinny black slacks that made me feel like a chic German schoolboy, or some near-perfect skinny jeans from my local thrift shop. But pants never quite feel like me. They always feel like I'm playing a character. I find them uncomfortable both physically and mentally.
So this year, I will not shop for pants. I will not try to figure out how to shoehorn pants into my style. I will not wear pants, except on days when the notion of doing so actually excites me (a rare thing). I will rock my skirts and my dresses and I will not try to be somefemme I am not.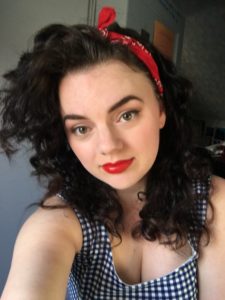 Big hair, don't care. Now, admittedly, my hair is not "big" by everyone's standards. Bigness of hair is a spectrum! But in recent years, I have mastered the art of making my hair as wide and wild as it can get. My routine involves curl-enhancing conditioners, DevaCurl gel, vigorous scrunching, and a Turbie Twist microfibre towel. When I do it right, it results in a fucking lioness mane.
I've noticed that big hair gives me confidence like almost nothing else. It doesn't eliminate my social anxiety, but it overshadows it a little. Tossing my curls around feels flirty and babely in a movie-star kind of way, and I want more of it. So I resolve to wear my hair big and curly as much as possible this year!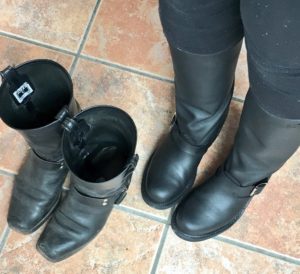 Shiny boots, shiny heart. Black leather boots are a signature part of my look; I wear them almost every day. The ones in heaviest rotation over the past couple years are my Frye harness boots, Frye engineer boots, and L.L. Bean winter boots. They make my heart sing, the way their severe stompiness balances out my airy-fairy femme ensembles.
But keeping leather boots looking good requires care and upkeep. They need to be regularly cleaned, conditioned, waterproofed, and shined. With proper maintenance, a good pair of leather boots can last for decades – and I intend for that to be the fate of mine!
Every couple months, I give my precious boots a thorough cleaning with saddle soap, and then shine 'em up with mink oil. I also just got my harness boots resoled because four years of wear had ground the soles flat. They are looking so lovely, and I will keep 'em that way!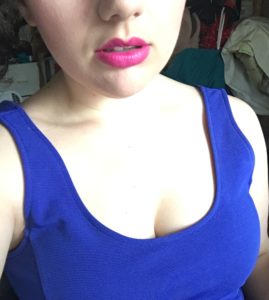 Lipstick love. Gahhhd, I feel so foxy in lipstick. Hot pink. Bright red. Deep cranberry. Intense violet. Whatever. I want it on my face.
But despite my love for lipstick, I often skip it, because I worry it'll draw too much attention to me, or it just seems like too much work. So for the coming year, I want to make an effort to wear it more often. Like so many other things on this list, lipstick makes me feel better about myself – but only when I make it a priority in my getting-ready routine.
It helps a lot to wear formulas I know are gonna stick around with minimal reapplication necessary. Some current faves in that category: Giorgio Armani Rouge d'Armani, Maybelline mattes, and anything by Bite.
One new tattoo. I've had a couple tattoo ideas floating around in my brain for months now, and I wanna get 'em done. It's just a matter of deciding to go ahead with it, sending some reference materials to an artist, and booking a consultation appointment. Aaahh, the very thought is giving me joyful heart palpitations!
I think I want to go back to Laura Blaney, who did my "good girl" bows. She made me feel super comfortable, and her work is stunning. I have a feeling she'll be able to give me exactly what I want.
Do you have any fashion-and-beauty goals or intentions currently?