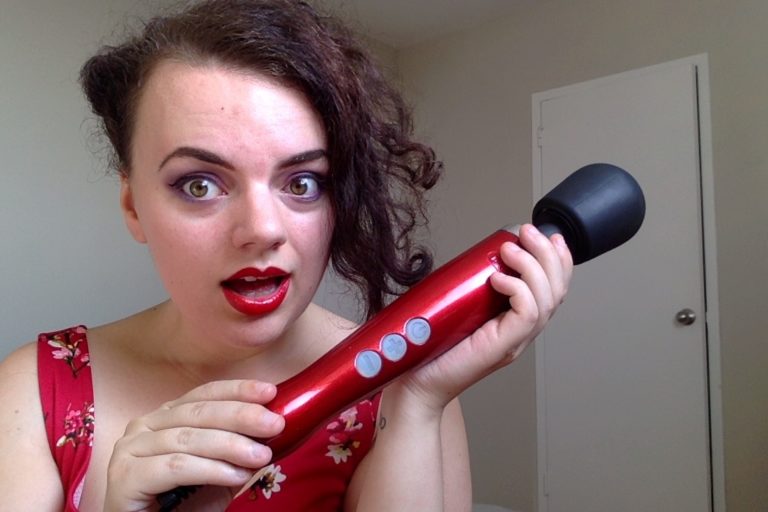 When Doxy gifted me a Die Cast, I heard proverbial angels singing from heaven. Because I knew orgasms aplenty were on my horizon.
See, if one thing is true about Doxy wands, it's that they are strong. I'm not the ideal person to be reviewing Doxy wands, in fact, because I'm so sensitive I barely use the power for which they're famous. My Die Cast is the only toy in my regular rotation that I always wish had a lower speed. I turn it on and think, "This can't possibly be where we're starting. This is a higher speed than most of my vibes end at."
But don't get me wrong: it gives me orgasms nonetheless. Lots and lots of 'em.
The Die Cast is an updated version of the original Doxy Wand. While it's hard to find fault with a strong, rumbly wand vibe, I have a couple quibbles with my original Doxy: the buttons sometimes get stuck and skip speeds, and the squishy PVC head makes the vibrations feel somewhat buried. Both these issues are fixed in the Die Cast, so I use it far more and enjoy it more when I do.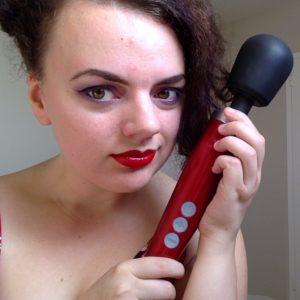 The Die Cast's head is silicone, so it's non-porous and easier to clean. It also transmits vibrations better than the PVC did, so it feels even stronger than the original wand. The head is "double-weighted," too – a technology that is supposed to make the Die Cast's vibrations feel rumblier. When I use the original Doxy, I only go up to the second speed; with the Die Cast, I literally only ever use the first one. (I know, right?!)
This is, if anything, my one major complaint about the Die Cast: I wish it had some lower speeds. While using it, I've often had the thought, "This thing is like the belt sander of sex toys." True, I can hold it on my outer labia so it only stimulates my clit indirectly, or use it through clothes, or employ other techniques I've developed for dealing with overzealous wand vibes, but I would rather not have to do all that. If it's been a few days since I've used a vibrator, often the Die Cast will feel alarmingly, almost uncomfortably strong, prompting me to grab a weaker vibe to use as a warm-up until I'm ready for more.
The Die Cast's body is made of a titanium/aluminum alloy. It feels super sexy and sensual – and I love the glittery texture of my red one! – but it makes this wand heavier than the original. I only tend to notice this when I've been using it for a while or when my chronic joint pain is flaring up. If you have strength or mobility issues, you'll want to go with a lighter wand.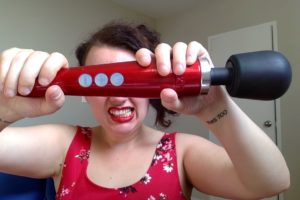 Like many powerful vibrators, the Die Cast is lovely for forced-orgasm play. At my request, a partner cuffed me into my under-the-bed restraints and then held the head of the Die Cast in his palm, pressing it against my clit while he pushed two fingers inside me and muttered filthy shit in my ear. After I came so hard I practically ascended to heaven, my beau grinned and said, "Are you glad you asked me to do that?" and yeah, I really, really was. However, like I've said, the Die Cast is somewhat heavy, so it's not as well-suited to forced-orgasm scenes as something lighter like the Magic Wand Rechargeable.
The MWR also has the benefit of being cordless, while the Doxy wands are corded. This doesn't bother me when I have the space and forethought to leave my wand plugged in, but if it's a choice between standing up to plug in an unplugged wand and just grabbing my MWR, usually my lazy ass will go for the MWR.
Noise-wise, the Die Cast is comparable to most other electric vibes of this power level: definitely audible if you're in the room with it, but probably undetectable through walls and doors.
On the whole, I've still been reaching for my beloved Tango and MWR more often than the Die Cast, because I like their wider variety of gentler speeds and that they're lighter and easier to hold than this big heavy behemoth. But if you need power, and want it to come in an absolutely stunning package, I can't recommend the Doxy Die Cast highly enough. It's gorgeous, well-made, and does the fucking trick.
Thanks very much to Doxy for supplying me with this wand to review! You can buy the Die Cast at Peepshow ($200 USD), SheVibe ($190 USD), or Come As You Are ($236 CAD/~$190 USD).