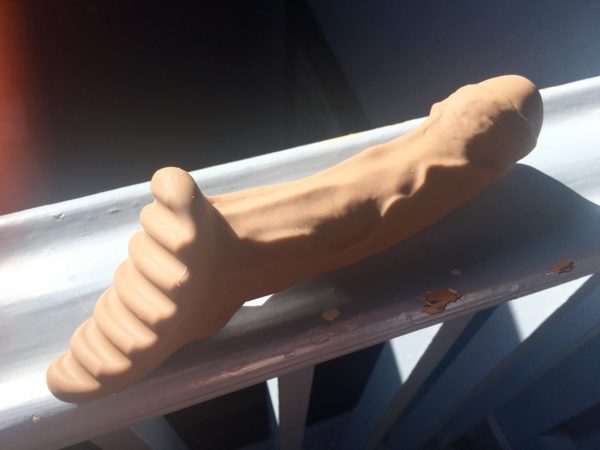 "If my dick was a dildo, would you give it a good review?"
You can file this question under "things people ask sex toy reviewers that they would never think to ask anyone else." You can also file it under "questions you should think carefully before answering truthfully."
'Cause let's be real. Flesh-and-blood penises rarely hit my G-spot unrelentingly like the Pure Wand, stroke my A-spot thrillingly like the Tsunami, or fill me up like the Eleven. They don't, because they can't. It would be physiologically unthinkable. And that's fine. Dicks are fantastic, and sex toys are fantastic, and there's not a perfect overlap between their arenas of usefulness, but of course there wouldn't be. Sex toys don't respond to the touch of my tongue, moan in my ear, read my responses to discern what I'll want next, call me a good girl, or smack me around. Sex toys are not the partner I want; they are tools that can be used by me, or by my partner(s), to give me particular sensations that I want. Human beings are more than the physical sensations they provide.
I bring this up to help explain: if the Fuze Foreman was a flesh-and-blood dick attached to someone I liked – or even a strap-on dick worn by someone I liked – I would adore it. But it's not; it's a piece of silicone I fuck myself with, and I have different standards for those than I do for phalluses cute people fuck me with.
In my orgasm spreadsheet (nerd!), the Foreman only appears in the "dildo" column alongside other dildos, never by itself. The reason for this: I get bored of it quickly, and switch to other toys in due course. Its 1.43″ diameter is small compared to the dildos I love most, and with just 5.5″ of useable length, it barely grazes my A-spot and can't consistently stroke it in the way that I like.
It's designed to look like an uncircumcised penis. Aesthetically, I appreciate this; in use, not so much. The "foreskin" makes the head of this dildo smoother and less pronounced than more G-spotty realistic dildos, so there's none of that popping sensation that a more defined head provides for my G-spot. The Foreman feels okay, especially if I'm fantasizing about getting fucked by someone mega-cute, but there are so many other options that feel so much better to me. My vagina is a busy lady and has no time for subpar penetration.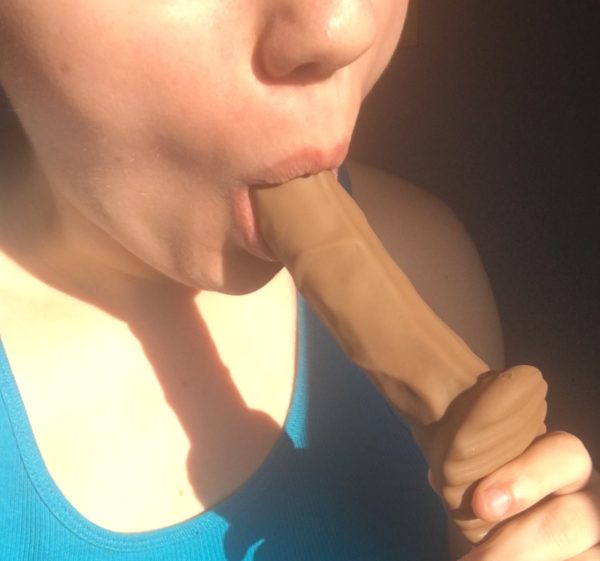 However, I'm an optimist (a cocktimist?), so I found a silver lining: I loooove the Foreman for blowjobs. If you are in the market for a dildo to put in your mouth – whether it's going to be strapped onto someone else at the time, or you just want the solo sensory satisfaction of suckin' on a dong – realistic Fuze dildos are some of my favorites to suggest. The glossy-versus-matte ratio of their silicone feels fairly realistic, especially when wet and heated, and the various veins and imperfections are a treat for the tongue. I've been practicing my deepthroating on the Foreman recently, and it gives me a lot of the same pleasure I get from blowing a human. Plus it looks remarkably realistic in beej-themed cam shows and Snapchat clips.
Like many Fuze dildos, the Foreman is also optimized for strap-on play. It's designed to angle upward in the way erect factory-installed dicks often do, and it's got a ridged base so the wearer gets some clitoral friction during use. It's even got a little hole at the base that a bullet vibe can go into… although, honestly, I mostly use that as a finger-hole while blowing this dildo, like it's a bowling ball. (Or a "blowing" ball?! Har-de-har-har…)
When I want to get properly fucked by a silicone dick, I'll still reach for my Mustang, Maverick, Sam, or Uncut. They all hit my spots more accurately and fill me up more satisfyingly than the Foreman does. But when I'm in the mood to suck a cock and there are no flesh-and-blood ones immediately available to me, I'm likelier to grab the Fuze Foreman than any of those other ones. It fits in my mouth like a dream. And it even shares a name with a certain hot doctor from House, M.D.!
Thanks very much to SheVibe for sending me this product to review!