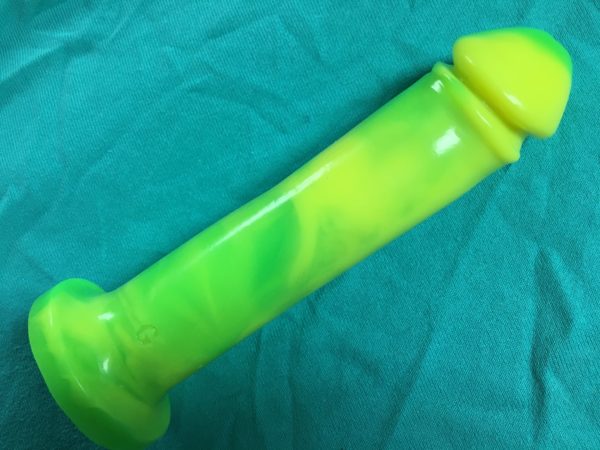 It takes a lot for a sex toy to get my attention these days. There comes a point where they all start to blend together. But when you're offered an 8″ hunk of swirled green and yellow silicone from an up-and-coming company, you say yes. Or I do, anyway.
I actually gasped out loud when the folks at SheVibe emailed me about the Godemiche Adam. The colors are arresting. The colorway I own is called "Gamma Ray" but the toy also comes in "Phoenix Rising," "Purple Phantom," and "Gold Member." If you wanna feel like an alien queen from Planet Glitterfemme, you could also get one in sparkly pink. (There aren't enough heart-eyes emojis in the world for this shit, frankly.)
Shape-wise, I wasn't expecting the Adam to do much for me. Its shaft is straight all the way along, and I typically prefer toys with a curve: a big curve for my G-spot, or a small curve for my A-spot. However, I was pleasantly surprised by what the Adam can accomplish.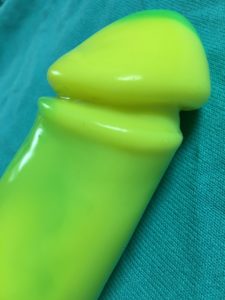 Its coronal ridge is relentless. This is the type of drastic ridge that can either feel fantastic or painful, depending on your anatomy (and your level of arousal). When I'm properly turned on and lubed up, that ridge slides across my G-spot with every thrust, pushing and pulling against it until I feel like I might burst and/or squirt. But there are definitely times when I'm less aroused and it just feels like some sharp-nailed femme is ineptly fingering me. Be extra sure to take your time warming up for this dildo, unless you're a total pro. And pour water-based lube on that sucker.
My Adam is the 8″ version. Godemiche also makes a 6″ Adam, but I'm glad I went for the longer one; I figured it'd stand a better chance of hitting my A-spot, and I was right. The tip is slightly tapered, so it makes delightful A-spot contact when I slide the toy inside me as deep as it'll go. In fact, if I thrust the toy just so, I can get it to hit my G-spot on the outstroke and my A-spot on the instroke. Aaaamazing.
After the head and coronal ridge, the rest of Adam's shaft is straight and uniform. Its 1.8″ diameter makes it feel deliciously substantial when I'm coming around it, but sometimes in the lead-up to orgasm, my vagina wishes there was a little more texture on that shaft. Veins, ripples, a foreskin ridge, whatever. If you're a texture fiend, you might be bored by the Adam.
The silicone itself is one of the firmer formulations I've encountered. It might be partly because of how thick and substantial the Adam is, but I get barely any squish or bend out of it. That's fine with me, since my internal erogenous zones tend to like pressure. However, if you're looking for something more forgiving and gentle, I'd recommend VixSkin instead.
Overall, though, I was surprised by how much I like the Godemiche Adam. To the naked eye, it looks like a pretty standard realistic dildo, albeit more psychedelic than the average dong. But it actually strikes a delicate balance that a lot of dildos don't: it hits my G-spot wonderfully, is long enough to get up in my A-spot, has enough heft to feel satisfying without feeling overwhelming, and is easy to thrust fast (which I do, a lot). And it looks beautiful in my pink harness. Dammit, Godemiche; you made this grizzled old dildo veteran feel something again. Something like love.
Thanks to SheVibe for providing me with this toy to review!