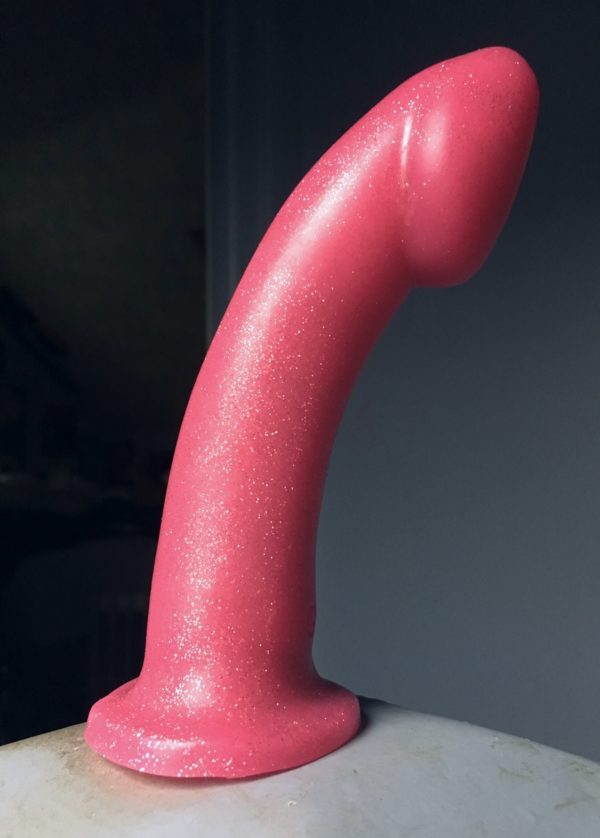 The concept of penis envy has always mystified me. I have penis curiosity, sure. Penis intrigue. If someone offered me an hour in an alternate universe wherein I would have a dick and could receive a blowjob from, say, Olivia Wilde circa 2004, I would not say no. But I have never actively longed for a penis. At least, not one attached to me.
But the concept of a "femme cock" nonetheless stirred my interest. I'd read Artemisia and Melissa Broder rhapsodize the power of wielding a girly member. I kept an eye out for that perfect harness-and-dildo combo that would let me feel feminine as hell while strapping on. I cooed over harnesses by Velvet Nest and Tantus, and felt comfy rocking colorful dildos from Happy Valley and Vixen Creations. But then I fell in love with a pink Aslan Leather harness and a pink glittery Godemiche Ambit, and my perfect femme-cock combo was formed.
I'd previously tried Godemiche's Adam, and while I liked it, it had no curve – and curves are important to me. So I was excited when Godemiche launched the Ambit, a gently sloping G-spot-focused dildo with a defined coronal ridge. My vagina ached for it, and even moreso when they told me they could custom-make one in their sparkly pink colorway.
Godemiche's silicone is midway between hard and soft: I can fold this dildo in half, but it takes effort. It's firmer than Vixen and Tantus' dual-density silicones, but squishier than their regular silicone formulations. It's a good happy medium for my G-spot, which usually likes being stroked but not being aggressively pounded.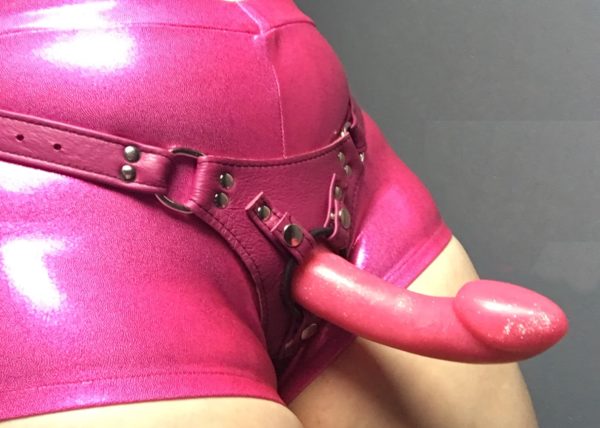 At 5.75″, the Ambit is long enough that it can reach my A-spot if I pull my knees to my chest and push the toy really deep – but that's not really where it shines. This is primarily a toy for G-spot stimulation and it does that very well. The flat, angled head finds my spot with precision, and a well-lubed Ambit is easy for me to thrust in and out as fast as I like.
Sometimes, mid-masturbation, I start to crave something a bit bigger and more targeted than the Ambit – at which point I might switch to a tried-and-true fave like the Uncut or Adam. The Ambit has a 1.5″ diameter at its widest point, and I'm used to using toys in the 1.75″+ range. But on an average day, it feels plenty good enough on my G-spot to get me off, when paired with a decent clit vibe.
Because its head comes to a tapered point, the Ambit is also great for anal play. Its curve would make for some good prostate stimulation, I'd imagine. I like the gentle popping feeling as this toy's big head slides into my ass, and the otherwise smooth shaft means it doesn't overwhelm my butt with sensation.
While I wouldn't say the Godemiche Ambit is a standout favorite dildo of mine, it's good to have around for days when I want medium-intensity G-spot stim and don't feel like being filled up with a massive cock. Plus it looks totally gorgeous when I strap it on – and I'd imagine it'll look even prettier when I (eventually) fuck the vag/butt/mouth of someone adorable with it. It is truly my dream femme cock!