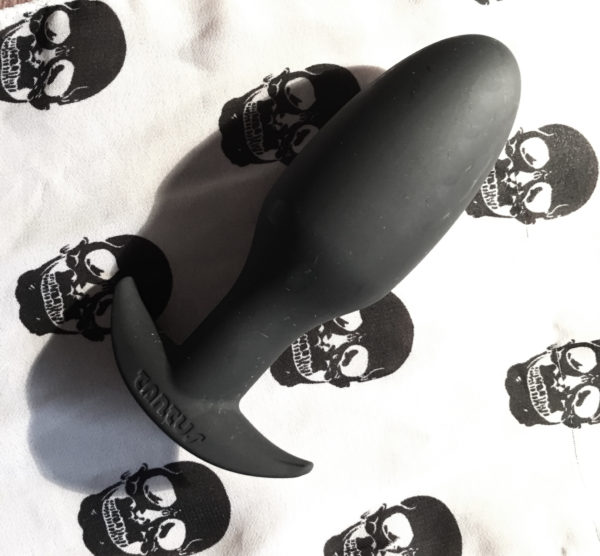 My favorite fuckbuddy calls the Tantus Ryder the "sleep number plug" because, when he fucked my vag while the Ryder was in my butt, the plug made me so much tighter that he exclaimed, "Who turned the sleep number in your vagina up to 100?!" and came almost immediately. I still make fun of him for that particular ejaculation (I'm using "ejaculation" in both the sexual and verbal senses of the word).
But the Ryder isn't just a tool for making your vagina feel tighter. It's also an excellent butt plug in its own right.
Here's how much I love the Ryder: when Cailey from new Canadian sex toy shop La Petite Mort asked me what I'd like to review from her site, I requested the Ryder even though I already owned one. Tantus redesigned the Ryder sometime in the past couple years, giving it a comfier base and a smaller, slimmer shape. Some people rabidly buy each new iPhone model the day it launches; me, I needed the latest iteration of this butt plug.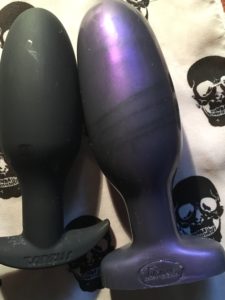 Tantus has done a pretty significant overhaul of this plug, to the point that the new and old Ryders look and feel substantially different from each other. I'm not sure the new one lives up to the "sleep number" hype of the old one, because it's smaller – both lengthwise and girthwise – and therefore wouldn't make my vag feel as tight to anyone fucking me while the plug was inside me. So when I see the particular fuckbuddy who's a fan of that sensation, I'll pack my old Ryder in my toy bag – but aside from that one aspect, I overwhelmingly prefer the new-and-improved version of the Ryder.
The base, notably, is flatter and slimmer than it used to be, and curves with your body rather than jabbing into it. It's unobtrusive, but not so slight as to make me worry it'll get sucked into my butt. A more comfortable base means I can keep the plug inside me for longer. It also seems less likely to get in the way if a partner was to go down on me, finger me, or fuck me while the plug was in. Hooray!
The smaller size makes the new Ryder feel like less of a stretch and require less warm-up, though of course, it won't be as satisfying to fans of girth. (If that's your jam, Tantus makes the Bronco, which is 1.75″ in diameter versus the old Ryder's 1.5″.) The tip of the plug is more gradually tapered now than it used to be, so it's easier to insert and doesn't cause me pain or discomfort like my original Ryder occasionally did.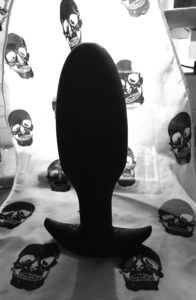 The new Ryder is also made of a silky, matte silicone, which glides against the skin more smoothly than the sticky, glossy silicone the Ryder used to be made of. It collects less lint and debris, too. (Nobody wants lint and debris in their butt. Nobody.)
I'm super glad I have both versions of the Ryder, because they're different enough that they're essentially two different toys. The current version is better for beginners to butt stuff (though I'd still recommend something smaller for true novices), less intense, and more comfortable for long-term wear. The old one still holds a special place in my heart, though, for being one of my first butt plugs and the only toy that's ever caused a partner to joyfully exclaim about how tight my vagina felt when I used it. Ah, memories!
Thank you to La Petite Mort for sending me this plug to review! Canadian sex toy shoppers, you should take a look at their mission statement; they're all about inclusivity and material safety, and that's a mission worth supporting.