Immediately after trying the Zumio for the first time, I texted the person I was dating, "This thing is intense. I think it would be good for a forced-orgasm scene."
"Oh yeah?" he replied, and my fate was sealed.
The reason this idea occurred to me is that the Zumio feels like it's inducing not-entirely-voluntary orgasms even when I use it by myself. It's like stepping into a shower that's just a little too hot, getting close to static electricity without being zapped, running just a little faster than your lungs can handle because it's exhilarating. It's pleasure that's just slightly uncomfortable.
Let me clarify. If I was to hold the Zumio's extremely pinpointed tip directly on my exposed clit, it would certainly be uncomfortable. I know because I've tried. This toy oscillates rather than vibrating, much like my beloved Eroscillator, but unlike the Eroscillator, all the oscillation is focused into a tiny, hard tip. It is not cushioned, diluted, or spread out at all. You will only like the Zumio if you like your clitoral stimulation very focused and very intense.
This is why I wanted a partner to use it in a forced-orgasm scene. Giving him control of this toy was an act of pure, deep trust. That's exactly the shit I love most about kink.
Knowing my tastes, and how ridiculously sensitive and picky my clit is, he held the Zumio lengthwise so its oscillating shaft just barely grazed the side of my clit through one inner labia. He kept it on the lowest speed. That was enough, honestly. Paired with a great dildo stroking my A-spot, this thing got me off in less than ten minutes – a feat for me when it comes to partnered sex.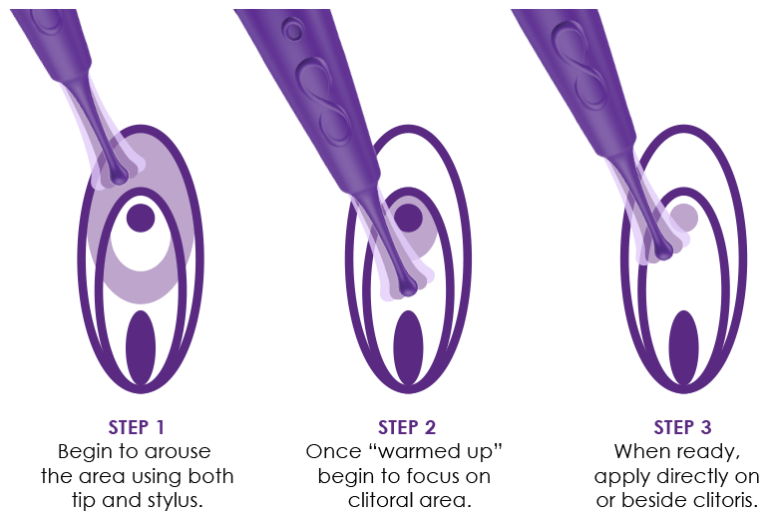 The timeframe is worth noting, because Zumio first entered the consciousness of many sex toy reviewers by making the ostentatious claim that it can make you come in 60 seconds. I hate this prescriptive nonsense – it makes slow masturbators feel broken and fast masturbators feel rushed – so I put it to the test. The Zumio has pretty reliably gotten me off in 10-15 minutes each time I've used it, making it slightly slower at this than many of my other clitoral toys. I think this is because it's so stimulating that I often have to take breaks or back off for a while before I can ramp back up. I don't have a problem with taking my time, but I do think it's worth noting that there's nothing wrong with your junk if Zumio's ridiculous one-minute promise doesn't hold true for you.
When using the Zumio solo, I prefer to apply it to my clit through panties. Used directly, it's a little too intense for me, even on the lowest speed, especially toward the start of a session. As I get more turned on, sometimes I can handle a little more, but I've still never gone past the third speed out of eight.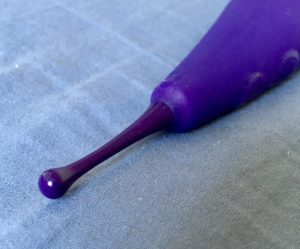 As vibrators and oscillators go, the Zumio is quite quiet. It's waterproof, and has a travel lock – both important features for me, a bath-lovin' jetsetter. It recharges in a little plastic induction cup, which is easy to use but takes eighteen fucking hours (I leave mine in the cup between uses so I don't have to worry about this silliness). The handle, happily, barely vibrates even when the tip is oscillatin' up a storm.
I wish the handle design was more ergonomic. It's designed so you can hold it between thumb and forefinger like a pen, but then you have to reach awkwardly far down the shaft to operate the buttons. This is sometimes a little tricky when the chronic joint pain in my wrists and knuckles is acting up, so often I end up pressing the buttons with my other hand, for which I have to momentarily abandon whatever other toy(s) I might be using. A small quibble, but one worth knowing about.
The main factors that will make or break this toy for you are the pinpoint tip and the intensity. You have to really love both of those qualities to love this toy. If you want something broader, get a Magic Wand. If you want something that has some lower speed options, get the Eroscillator. If you want a clit toy but you're not sure you want to spend $140+ on it, get the We-Vibe Tango.
But if you absolutely must have a leg-shakingly, breath-catchingly, mild-discomfort-inducingly strong and pinpointed clitoral stimulator, get the Zumio. To my knowledge, there's nothing else quite like it.
Thanks to Zumio for sending me their product to review! You can buy it at SheVibe ($140), Ignite ($140), and Peepshow ($140).