Did someone break into the penthouse of my vagina and steal the blueprints? Because the Fucking Sculptures Double Trouble feels like it was designed just for me.
My vagina hungers for it. It can't make up its mind which side is better. "Tonight I want the smaller side," I'll think, and insert that slightly slimmer end until it slides all up into my A-spot. That fuck-yeah feeling of deep pressure and rhythm seems like everything I could possibly want… until I remember that the toy's other side exists.
I flip it around and push the big side into me, turning it sideways at first so it'll fit. It finds my G-spot with alarming ease. It's like a little fist, so round and firm, exerting pressure in places I didn't even know I needed it. I rock it against my G-spot fast until I squirt, and still I want more. So I flip the toy back around. And again. And again.
This is how every session with my Double Trouble seems to go: a slow, jagged, delicious ascent toward orgasm, unable to decide what kind of stimulation the toy provides best. It's the Renaissance man of my vagina. And it was appallingly expensive, but in the sticky heat of the moment, I don't remember or care.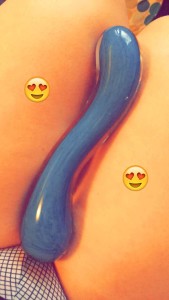 I first tried a Double Trouble at Bex's house. They were borrowing Caitlin's, which is the standard inky-black color that the DT usually comes in. While Bex and Penny chatted in the next room, I retreated to the air mattress Bex had set up for me in their office, pilfered some lube, and settled in with the Double Trouble. It felt luxurious and heavy and huge, and I didn't think my vagina would like it as much as my eyes did, but I was wrong. I was also, admittedly, very drunk (I had been out cavorting with a friend earlier in the evening), which made me wonder if perhaps I was experiencing the toy with a rose-tinted vagina.
I immediately noticed that the A-spot stimulation I could get from the DT's smaller end was excellent, and it made me come super hard in combination with my trusty Tango. But the larger end wouldn't fit inside me at all, which I decided was a dealbreaker, especially given how expensive the toy is. It took a lot of willpower not to place a drunken order from the Fucking Sculptures website that very night, but those drawbacks were enough to keep me from hitting the "Add to Cart" button. (Well, let's be real, I think I did hit "Add to Cart" but at least I didn't hit "Check Out.")
However, in subsequent months, I started to notice that all my favorite dildos du jour were massive and S-shaped. And I kept casting my mind back to that debauched night on Bex's air mattress. On Twitter, I complained about not being able to afford the dildo of my dreams – and within 24 hours, I got booked for two cam shows with kindly horny men who wanted to fund my dildo habit in exchange for some saucy Skype time. The internet is magic, y'all.
My lascivious benefactors only covered about half the cost of the toy, but that was enough to justify it for me – especially since Fucking Sculptures was having a sale at the time. I emailed Maria, co-owner of the company, to ask if she happened to have any Double Troubles left from the limited-edition, sky-blue "Dreamy Daze" batch that had been made back in May. As it turned out, she had exactly one left. And if you know me, you know that I love blue sex toys. So that sealed the deal. I ordered it on the spot.
Courtney Trouble has said that they designed the Double Trouble to be "a representation of a cunt from the inside out," and that's totally what it feels like to me. It fills the hungry void that my vagina sometimes becomes, and presses against the exact spots where I want pressure.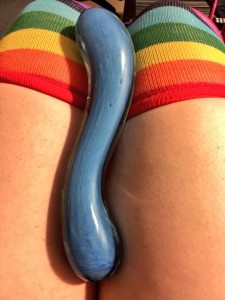 The smaller end is the one I use the most – and I'm using the word "smaller" pretty loosely here, because it's still big; it's just more tapered and pointed, so it's easy to insert even if I haven't warmed myself up or used any lube. (My vagina is a professional, though, so your mileage may vary. Go forth and lubricate, my friends!) It has the mild curve and slightly narrowed tip that tends to work well for hitting my A-spot, and indeed, it does so fantastically. I just need to push down on the other end a little bit to get the angle right. I've even taught a few partners how to do this, and it seems to be a fairly easy toy to fuck someone with: despite how deep I like my Double Trouble inserted, I've yet to have a partner painfully bump my cervix with it, because the curve and taper are just right.
I like the bigger end too, but I have to be in the right mood for it. As I've mentioned here before, intense G-spot stimulation isn't really my jam; sometimes I crave it but mostly I can take it or leave it. However, when that's what I want, this end can totally deliver. It's enormous and has no taper, so I have to turn it sideways to get it into me, but once it's in, it's comfortable (not like my so-intense-it's-almost-painful Seaside Steamroller). The angle is not as drastic as something like the Seduction or Comet Wand, so the most adamant of G-spotting fans may not be pleased with it, but it works well for my body.
Fucking Sculptures makes their toys out of soda lime glass, which is heavier than the borosilicate often used for cheaper, mass-produced glass toys. As you might have noticed, the Double Trouble is gigantic, so it's pretty heavy: about 1.75 lbs. I'm used to thrusting heavy toys (my beloved Eleven is 2.75 lbs) so this doesn't bother me unless I'm using the toy for a long period of time and my muscles start to tire. But if you have any mobility or strength issues in your arms, wrists or hands, you will definitely hate the Double Trouble.
But me? I definitely love it. If my vagina and this dildo both had OkCupid accounts, their compatibility percentage would be 99%. And they would exchange flirty messages that quickly became explicit. And then they would go on a drinks-date, banter wittily for a few minutes, and retire to the Double Trouble's apartment for some raucous, sweaty sex.
You can buy the Double Trouble at SheVibe! And you should, 'cause it's the fucking bomb!