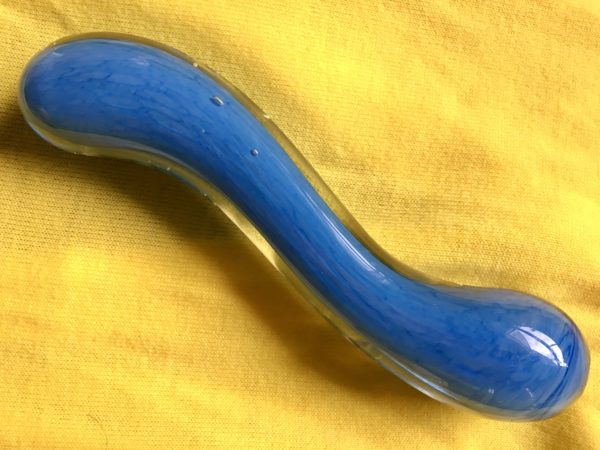 November. I creep to the post office with a harried desperation in my step. Once there, I slink to the service counter and slide my "missed delivery" notice toward the clerk, hoping she won't ask me what's inside the package she fetches for me. She doesn't. I clutch it to my chest the whole way home, protecting it from the world and the prying eyes of others, like it's my baby. It kind of is.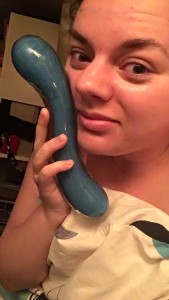 December. I'm enthusing about my new toy – the Fucking Sculptures Double Trouble – to an equally new fuckbuddy. "Why don't you marry it?!" he jibes, and I think through this scenario like it's an actual possibility. Already, the Dub Trubz has given me more orgasms than this fuckpal has, so it seems like a decent contender for spousal consideration.
A few weeks into fucking me on the regs, my FWB's getting frustrated that he hasn't been able to make me come. It's not his fault, I tell him; it takes me a while to warm up to new partners, and for them to learn what I like. "Show me how to get you off," he texts, and I come over to his house with my Double Trouble and Tango crammed into my bag.
Post-makeouts and foreplay, I lube up my favorite side of the D-Trub – the slightly thinner, longer side – and push it inside myself. I let him grasp the other side and take the reins, but I offer a running commentary of directions to help him along: "Tilt the handle down so the tip hits my A-spot better. Move it in small in-and-out motions. A little deeper, please. Harder. Just a liiiittle faster. There. Yes. Like that. Right there." It doesn't take long. I fall to pieces in front of him, the Tango handily handling my clit while he strokes the DT over my spot again and again. He finally got to see me come. He's thrilled.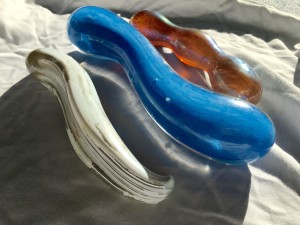 January. I masturbate constantly with my not-so-new-anymore treasure. It's like the honeymoon phase in a relationship; I just can't see anything wrong with it, nor do I want to. It makes me squirt, it makes me giggle, it makes me come and come and come. I take it in the bath, to fuckbuddies' houses, to coffee-dates with friends so I can show them my fave toy. Sometimes I'm lying in bed and I catch sight of it on my nightstand, and I have to use it immediately. It's that good.
February. Planning my first anal sex experience, I'm sexting with a handsome hookup who loves using toys on me. "Any particular toys you want me to bring?" I ask him, nervous and excited. The hotel room is booked; this is really happening.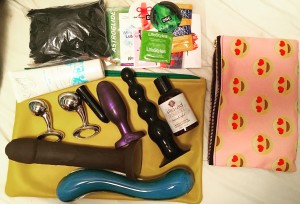 "It's about what you like," he replies. "Even if I'm having a good dick night, that's gonna be three rounds, max, with variable stamina. But if you want to get rammed with a toy for another 20 minutes, bring that. ;)" My heart quickens and I slide the Double Trouble into the toy bag I've already packed well beyond its capacity.
When the moment for toy-ramming actually arrives, there are really only two choices worth considering, and they're both on the nightstand of our hotel room. "It's up to you," I tell him when we're trying to decide which one should be the one to get me off. "The Eleven is more G-spotty, and the Double Trouble is more A-spotty."
He fingered me a little, earlier in the night, so he's bang-on when he intuits, "It seems like you're in an A-spot kind of mood tonight." (This is before I realize that I'm pretty much always in an A-spot kind of mood.) He fetches my Hitachi and lubes up the dildo, and I give him my same old detailed play-by-play of how to fuck me with this blue glass behemoth. He absolutely nails it. "I wish my dick was shaped like this," he mutters, mere minutes before making me come so hard I practically black out.
March. "Some orgasms are quick, small, and barely noticeable," I tweet. "And some orgasms involve the Double Trouble."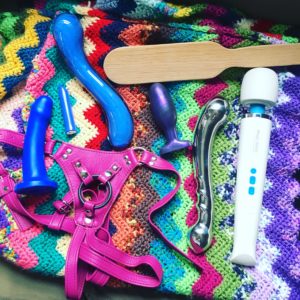 April. I have a lacklustre Tinder hookup in Minneapolis. It sates my BJ craving but doesn't get me off – one-night stands almost never do – so I wreck myself with my Dub Trubz after the dude drives me back to where I'm staying. Once again, a damn good dildo saves the day.
May. I'm on antidepressants for the first time in my life, and suspect that they might be affecting my sexual sensitivity. During a threesome with Bex and my favorite fuckbuddy, he uses his fingers and then the Double Trouble on my A-spot, and I don't even get close to coming. That's when I know for sure that my orgasmic capabilities have been stunted by the medication. If that dude's fingers can't get me off, something is wrong; if the D-Trubz can't get me off, something is really wrong. I quit the pills the very next day.
June. I declare on Twitter that if my vagina were a polyamorous person, the Double Trouble would be its primary partner. (Truth be told, when I'm between partners, this toy feels like it's my primary partner.)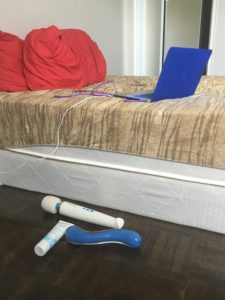 July. I have a new kinda-boyfriend, and my fave fuckpal is in town. I have a lot of sex. No, really, a lot of sex. And a lot of it involves the Double Trouble. It's fascinating to observe different partners' approaches to using it on me.
One memorable afternoon, me and my fuckbuddy are gettin' down to business in my bedroom in an Airbnb, while Bex shoots porn in the next room. While warming me up with his fingers, he reminds me in a low, vaguely dom-y tone, "We have to be really quiet." I nod and pull a pillow over my face as a preemptive measure. He hands me my Hitachi, then lubes the Double Trouble and pushes it into me. I thought I could be quiet. Now I'm not so sure.
When we go out for dinner, I say to Bex, "You're gonna lock the door, right?" and without missing a beat, they reply, "Duh. There's a Double Trouble in there."
August. I bring my Dub Trub to Woodhull so the other sex bloggers can ooh and aah over it. They do. One afternoon, horny and socially overwhelmed, I skip a session and sneak upstairs to my hotel room for an introvert break that is also a masturbation break. I work myself up with deft precision, Tango in one hand and Double Trouble in the other. It's quick and easy. I feel instantly better.
Later in the month, I bring a new beau back to my place, and we hook up for the first time. "I want you to show me where your A-spot is," he whispers darkly; he's obviously been reading my tweets. I help him find it with his fingers first, and then I arm him with the DT. He picks up the necessary skillset admirably fast. After I come, he tells me, "That was hot," and I radiate a glowy grin.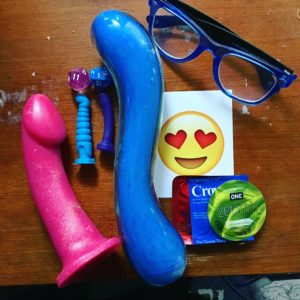 September. I'm miserable. Heartbroken over a recent romantic rejection, bitter over a couple of nasty break-ups, and as dour and depressed as I've been in recent memory. My genitals feel foreign to me, and most days, masturbation is too much work to contemplate. But when I need it, the Double Trouble is there. It sleuths out my A-spot. It makes me come. I don't have to think, or try, or fantasize. Paired with the Magic Wand or Tango, it's nearly instant. I'm unspeakably grateful for sex toys, because they make my life a little easier when it seems very, very hard.
October. I go to Malta and Italy for two weeks. Knowing I'll be sharing a hotel room with my mom the whole time, I give minimal thought to masturbation. At the last minute, I decide to pack my Tango and G-Spoon, just incase. They end up being indispensable to me, since travel stress makes me horny as hell – but I still wish I'd brought my Double Trouble. True, I would've panicked the whole time that it'd get lost or stolen somewhere in an airport or a cargo hold, but nonetheless, I miss it. It's my go-to guy.
November. I have an impromptu threesome with a handsome friend and a pretty lady. She plays with my nipples, kisses me, and tells me how cute I am, while he fucks me with the Double Trouble. He stands by the edge of the bed so he can fully harness the strength of his quads to ram me. At one point I start to get anxious and ask him, "Are you tired? Do you want to stop?" and he all but rolls his eyes, because he knows I'm prone to insecurities about taking too long to come. "You just lie back, relax, and feel good," he instructs me. While I'm coming hard a few minutes later, he quips, "See what happens when you trust me?" and it's one of the hottest things I've ever heard.
The next morning, Suz has to go home early, so it's just me and Handsome Pal snugglin' naked in bed. One thing leads to another, and once again, he's got that big chunk of blue glass buried in me. "Harder," I pant. I want more sensation. I want it to almost hurt. I want to come so hard for him. "If I go any harder, I might impale you," he comments, "but I think you want to be impaled." And then he presses the DT's tip even more insistently against my A-spot, slamming the toy in and out of me faster. My yeahs and right-theres and don't-stops coalesce into gasps and screams. The orgasm hits me like a train. I haven't come that hard in months.
The 20th is the one-year anniversary of the Double Trouble's arrival in my life. I decide I want to do something to mark the occasion. I ask the many-times-aforementioned friend with benefits – the person who's handled my D-Trubz the most, other than me – for a mini-review to include in this post, and he writes back: "Fucking a partner with the Double Trouble fulfills my fantasy of having some kind of prehensile sci-fi alien penis… Recommended!" I simultaneously laugh and get turned on, a thrilling Pavlovian response. Unf.
I have the most exciting news for you, my loves: you can win a Double Trouble!! Last week, I reached out to SheVibe and Fucking Sculptures to ask if they'd provide a gift card that one of my readers could win and potentially put towards a DT, but both companies are fuckin' superstars and they each generously offered an actual goddamn Double Trouble for my giveaway instead. Amazing!!
If you win one, SheVibe or Fucking Sculptures will ship you the toy for free if you live within the U.S. If you're located elsewhere, you'll have to pay the shipping yourself (but trust me, it's worth it).
The giveaway goes until December 1st. I'm so so happy I get to hook up two of my lovely readers with my very favorite sex toy!