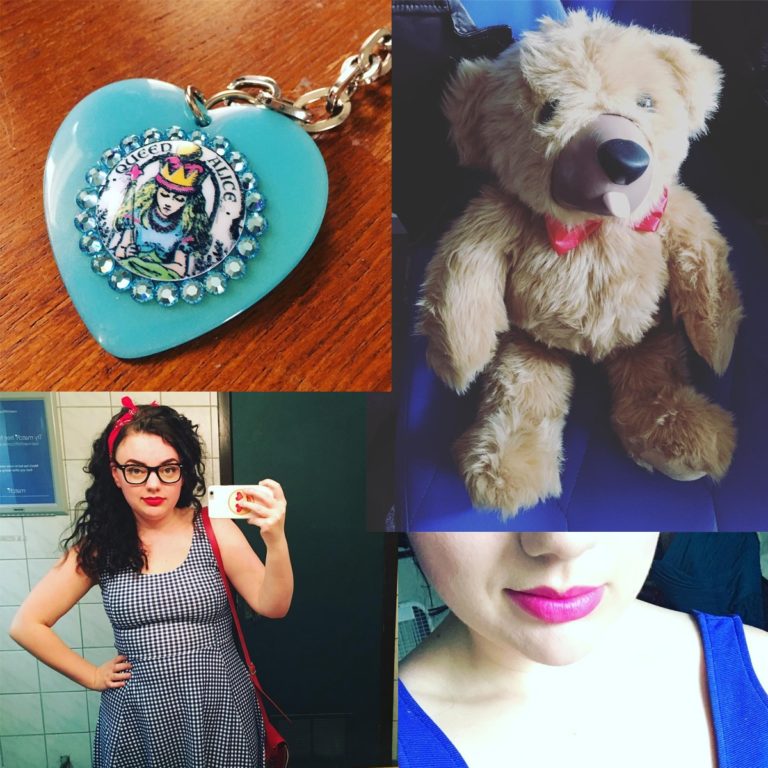 This month I turned 25, spent a lot of time partyin' and socializin' with friends, and had plenty of fulfilling sexual experiences! Here's hoping April was a prescient preview of the sexy spring and summer to come.
Sex toys
• SheVibe sent me the Adrien Lastic Caress (full review to come!) and I'm surprised by how much I like it so far. It uses rotation and silicone attachments to stimulate the clit in a cunnilingus-esque manner, sort of like the Sqweel and Sqweel Go – but it also vibrates, which amplifies the sensation. I'm contemplating writing a post comparing various oral sex simulators, because damn, I love them when they're executed well.
• Speaking of oral sex simulators… I've gotten back into the Satisfyer a bit this month. The suction creates a slow build of arousal compared to a vibrator, but sometimes that is exactly what I want.
• Teddy Love sent me their product, an undeniably horrifying teddy bear whose face vibrates. I haven't been able to bring myself to apply it to my genitals yet, but I have delighted in showing it to partners and watching terror bloom on their faces.
Fantasy fodder
• Receiving oral sex tends to fall by the wayside in my fantasy life until I meet someone who's really good at it – and then it reenters my sexual awareness at full force. I got good head from a couple o' cuties this month, so I've had tongues on the brain. Unf.
• I went on some dates this month with someone who is a very good kisser… Like, very, very good… Like, "there is usually wetness dripping down my thighs afterward" levels of good. He's got the actual lip-lock on lock and also does a lot of the peripheral things I love during makeouts, like grabbing my ass and holding me down by my wrists. So I've been fantasizing a lot about good kisses since then. Ugh, please tell him to come kiss me some more.
• I think I'm developing a bit of a premature ejaculation kink?! (In porn, anyway. Not so much in real life.) When I'm high and therefore disinhibited, a lot of my porn searches lately are phrases like "she makes him cum quickly," "he can't help but cum," "he tries not to cum," and so on. I confessed this growing interest to Bex, who knows my kinks super well, and they replied: "Honestly, that makes perfect sense. A dude being surprised by how good something (probs a BJ) feels so he loses control and comes instantly? That's totes you." Ah. Yes. That does make perfect sense, now that I think about it.
Sexcetera
• This month I had sex with a straight cis guy who a) didn't assume I'd be into intercourse, b) was highly skilled at mid-sex verbal check-ins that were both reassuring and hot, and c) said to me at one point, "I want to see you come. How can I make that happen?" Gosh, I love it when partners are attitudinally a good sexual match for me: non-pressure-y, adventurous, unpresumptuous, and more about pleasure and fun than meeting certain culturally prescribed goals. Swoon!
• Some of my work elsewhere this month: I enthused about my favorite erogenous zone, the A-spot, for Glamour, and detailed my experiences with a vaguely biphobic doctor for Daily Xtra. I blogged about wooden dildos and the silly realities of sex for Ignite. I made some sex-nerdy confessions on SwingTowns. On our podcast, Bex and I talked about porn and ruining the mood, interviewed Kenton of Funkit Toys, and on 4/20 we got high and laughed a lot.
• In April I had 25 orgasms – fewer than average for me, because some depressive spells tanked my libido for a bit. Two of those orgasms (8%) were from partners; the rest were solo.
Femme stuff
• For my birthday, I bought myself an Alice in Wonderland necklace from Tarina Tarantino. It's big and over-the-top and I love it.
• H&M makes a flattering $15 fit-and-flare dress in multiple different colors and patterns. I own eight of them now. It's a problem. Except it's not a problem at all. I think my current faves are the blue gingham and red floral ones. Soooo foxy!
• I got my makeup done for a friend's wedding, and it was such a fun novelty. I'd never worn false lashes before, and couldn't stop staring at my cartoonish babeliness in every mirror. My turquoise bridesmaid dress rounded out the look.
Little things
Hippo Campus' new album (it is all I want to listen to right now!). Coaching/consulting sessions where I feel helpful and useful. Fun cam shows! Having a full plate of writing projects. Spicy salmon sushi and big helpings of edamame. Editing podcasts in a café window seat. Conversations with smart friends about strange psychosexual phenomena. Drinks-dates where our conversation crackles and flows. Twitter crushes. Interviewing hilarious smart people for exciting projects. All-day breakfast. Dancing to Taylor Swift with a bunch of new friends in Hamilton. Listening to the Flop House while soaking in a hotel bathtub at the end of a long day. Beautifully-wrapped presents. Polite and respectful suitors. Bex's dapperness. Seeing my friends win awards. Good listeners. Learning new things. Sexting as negotiation. Really good coffee.