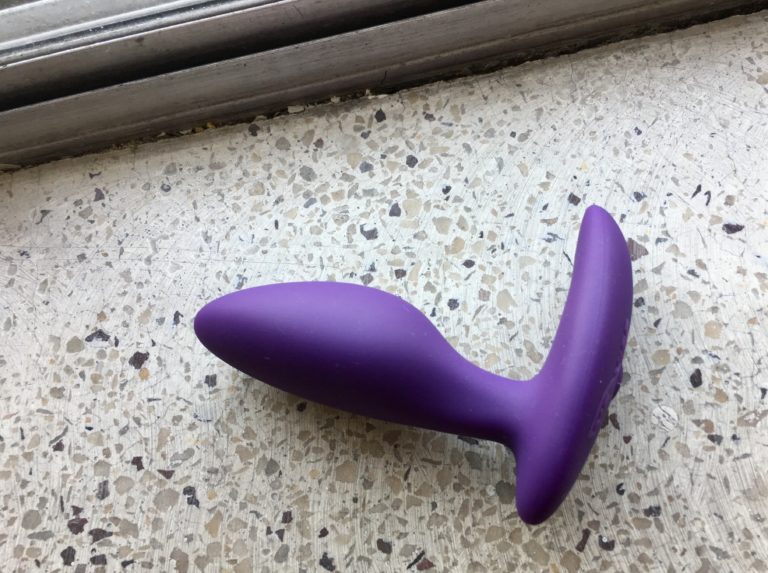 I was in a room full of other sex toy salespeople, at the sex shop where I used to work, when we first heard about the We-Vibe Ditto. At that time, it was a new development and being kept hush-hush – but the room erupted in excited exclamations. "Yes!!" the common sentiment went. "We-Vibe is finally making a butt plug!"
However, that excitement didn't stick with me once I actually held the Ditto in my hands (and in my butt). It isn't quite what I wanted.
My first problem with the Ditto: I can't figure out which way it's supposed to go. Normally my advice to anyone struggling with this question would be, "Put it in whichever way feels most comfortable/pleasurable!" but I find the Ditto slightly uncomfortable and not-quite-right whether I insert it with the base pointing forward or pointing backward.
Most of the time, I wear it so the base extends forward, toward my vulva, because it feels a little less awkward that way and the plug's protruding curve can stimulate my G-spot (indirectly and gently) if I orient it that way. But then the base slightly blocks my vaginal opening, making it difficult to combine the Ditto with girthy dildos (or big dicks).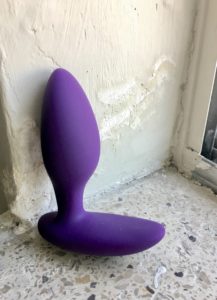 I had a cis male partner try out the Ditto, and he observed that its shape made it feel difficult to insert but not all that filling once actually inserted. I've noticed the same thing: insertion is awkward and a little uncomfortable, and what results is a surprisingly underwhelming feeling once you've got it in. It makes me miss the heaviness and impactfulness of my Njoy Pure Plugs, with their ergonomic shape and delicious neck-to-plug width ratio. The Ditto feels like it's stretching me, but not in an especially pleasurable or comfortable way.
One side of the Ditto is flat, and a partner pointed out to me that this might make it more comfortable for double penetration, since the dick or other dildo wouldn't have to compete with the plug's curvy swell for purchase. However, I find the plug so uncomfortable oriented that way that I can't imagine being able to fully focus on other sexual sensations while that was going on.
Aside from the shape, though, the Ditto is a wonderful plug. The vibrations are pleasantly rumbly and strong, so I can feel them all through my G-spot and perineal sponge when the plug is in. You can control the vibrations via Bluetooth using We-Vibe's fabulously designed We-Connect app, which is intuitive, fun, and allows for a long-distance partner to control the toy if you so desire. The plug is rechargeable and waterproof, and comes with We-Vibe's 2-year warranty. It's made of soft, smooth silicone that plays well with water-based lube and feels luxurious to the touch.
But the shape of this plug just doesn't work for me. I want We-Vibe to give it another shot – because if they did, they could make one of the best vibrating butt plugs on the market, right up there with B-Vibe's excellent plugs. For now, though, my butt just refuses to enjoy the We-Vibe Ditto and its strange, uncomfortable shape.
Thanks to We-Vibe for sending me the Ditto to review! You can grab yours at SheVibe, PinkCherry U.S., PinkCherry CA, Peepshow, Ignite, Come As You Are, or from We-Vibe direct.