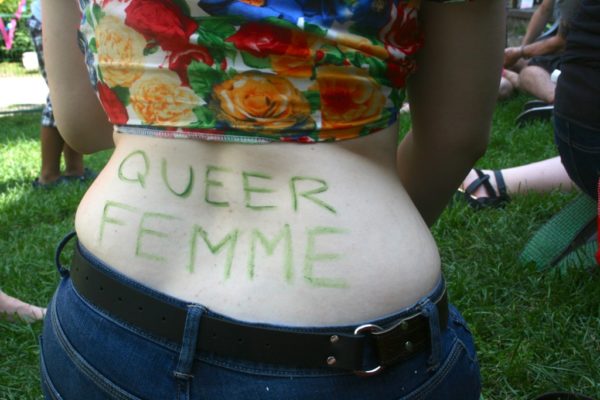 Gosh, I love when fellow femmes visit my city. I get to take them to all the cool places. We coo over sequinned fabrics together, weigh in one another's dressing-room successes, and window-shop for pricey makeup we'll never own. It's always a rollicking good time.
Here are some of my absolute favorite femme haunts in this city o' mine. You should check 'em out if you're femme-inclined and are visiting T.O. for the Toronto International Porn Festival in April, or for any other reason!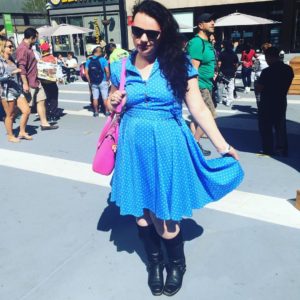 Retro clothing: Loveless Boutique. This splashy little shop on College Street is a rockabilly babe's wet dream. They stock 1950s reproduction clothes in a blessedly wide range of sizes. I always stop by Loveless if I have a fancy event coming up that I want to look pretty for, because nothin' makes me feel quite so foxy as a good fit-and-flare dress. The salespeople are also relentlessly nice and encouraging, in a way that feels closer to femme solidarity than ruthless salesmanship. So much love!
Vintage shopping: King of Kensington and Flash Back. Toronto's Kensington Market is rife with terrific vintage shops, but these two are my faves. They stock plentiful vintage goods in categories that matter to me: pretty dresses, tough leather jackets, badass boots, gorgeous handbags, and a veritable rainbow of cashmere sweaters. Some of my most prized possessions from these places include a pair of red sparkly boxers, a periwinkle and lavender striped cashmere sweater, the most perfect red bag, and another cashmere that's by Ralph Lauren and was in perfect condition when I bought it vintage for $40. Swooooon.
Alterations and repairs: JB Cleaner & Tailor. If you need a button or zipper fixed, a piece of clothing taken in or let out, or any dry-cleaning done, this is the place I would loudly recommend! As far as I know, it's owned and run by one lady, Tuyet, and she's awesome. Every time I come in with a piece of clothing that needs fixin' up, she has me try it on in her little changing room, and then she stands me in front of a mirror and whirlwinds around me, pinning and pinning until I somehow look hotter and shapelier than I did when I walked in. My alterations are typically done about a week later, and are always flawless. I don't trust anyone else with my clothes, honestly.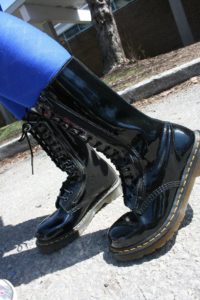 Kickass boots: Dr. Martens. We are lucky, us Torontonians, to have an actual brick-and-mortar Dr. Martens shop on our Queen Street West. It's a nifty little shop: the decor is colorful and punchy, there are comfy leather benches to sit on while trying on boots, and the sales counter is (inexplicably) an upright piano. Even if you don't have a spare $120–250 to drop on a pair of nice boots, it's worth dropping by the store just to screech at the tiny, adorable Doc Martens for toddlers. And a hint: if you're ever in Toronto on Boxing Day (the day after Christmas) and you're on the hunt for some new boots, come here; they always have terrific Boxing Day sales. (I got my knee-high black Docs and metallic blue ones for about $200 total on Boxing Day once…!)
Lingerie: Secrets From Your Sister. This cozy shop in the Annex is a "boutique" and has prices to match, but hey, good bras are always gonna be expensive. I once accompanied a friend to her fitting here and I was impressed with the process: she was assigned a salesperson to work with, who measured her, asked her about her aesthetic preferences for bras, and brought her a whole bunch of options. After several rounds of accepting and rejecting various bras for various reasons, my friend ended up with two high-quality bras she loved. The whole vibe was relaxed, fun, and low-pressure. I don't really wear bras, but if I did, this is where I'd get 'em!
Weird finds: Black Market. Not just for femmes: I usually take Bex here when they're in town, and they're a mostly-masc nonbinary queerdo! The Black Market carries a strange mixture of vintage clothes, eccentric deadstock, novelty T-shirts, and quirky accessories. I have some glittery dancewear from there, and I also love to pick up handkerchiefs there for flagging purposes. If your wardrobe needs a dose of fresh eclecticism, the Black Market is the place to go.
Hair: Avalon Hair Design. I have been getting my hair done by Paul for at least a decade. He always, always makes me feel like a queen. He's pricey, yeah, but holy moses, what a pro. Fun fact: when I was ~13, an unfortunate incident involving chlorine caused my super-curly, thick hair to get irretrievably tangled in one section at the back of my head. My mom made a literal emergency appointment with Paul and he soaked my hair in leave-in conditioner and went to work with a comb. Not too long later, my hair was not only detangled but also more gorgeous than before. Paul's official title is "Master Stylist" and that shit is no joke!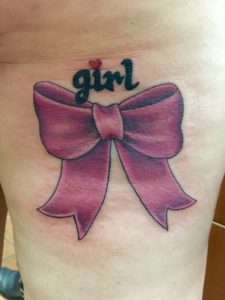 Body mods: Adrenaline. I got my thigh tattoos done here, on the advice on several friends, and I'm so glad I did! The staff are polite and professional, the waiting area is sunny and comfy, and I felt well taken care of throughout the process. They do tattoos and piercings, take walk-ins, and are right on Queen West (one of the trendiest shopping areas in the city), so if you're in the mood for an impulsive body mod, Adrenaline's a great choice.
Makeup and perfume: Sephora Yorkville. Do not bother with the Sephora at the Eaton Centre; it's always a crowded nightmare. I find that the salespeople at this location are nicer and the vibe is more relaxed, so I can take my time perusing lipsticks, sampling perfumes, and so on. When you're done here, you can trot down the street to MAC or Holt Renfrew for even more cosmetic funtimes.
Fellow femmes 'n' fancypeople: what are your favorite Toronto spots for gettin' yer pretty on?