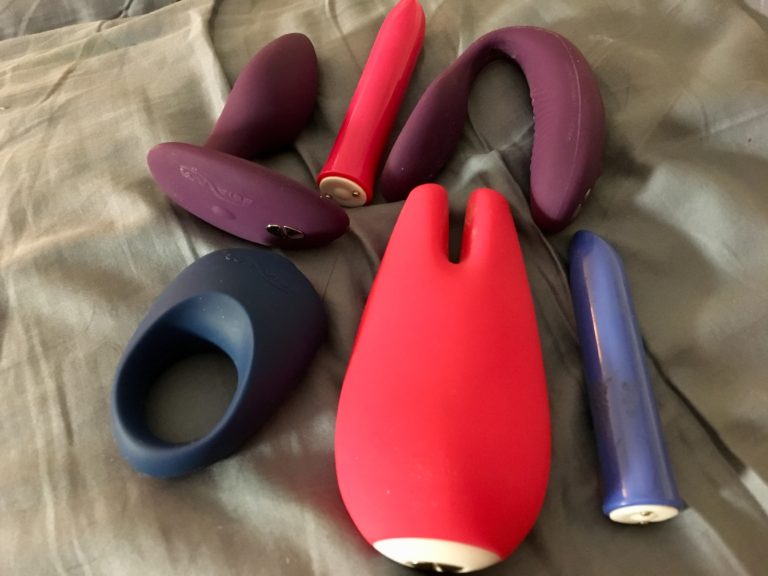 "Wow, you really like We-Vibe, huh?" my boss asked me shortly after I started a stint working sex toy retail earlier this year.
I looked at her blankly. Of course I like We-Vibe. We-Vibe makes high-quality, body-safe vibrators with strong, rumbly motors and some of the best-honed technology on the market. What's not to like?
Choosing a company to profile in this year-end feature has sometimes been tricky for me (previously: Fucking Sculptures, Aslan Leather), but this year it was so, so easy, because I use We-Vibe's products more than those by almost any other company. They fit into my sex life seamlessly, whether I'm alone or with a partner. They just… do what they're supposed to do.
The We-Vibe Tango remains the real MVP of my toybag. I own two of them now, and frequently exhaust their batteries from jerking off with them several times a week. In fact, the Tango was far-and-away my most-used vibrator of the year, facilitating a whopping 93 of the 333 orgasms I had this year (that's 27.9% – more than any partner I had this year, certainly!). It just works well. The vibrations are rumbly and powerful, the shape jives with my clitoral preferences, and I know I'll reliably have an orgasm with this toy. It's also magnificent for sliding between bodies during partnered sex, whether a partner is fucking me, fingerbanging me, or using other toys on me.
I also keep a We-Vibe Touch at my parents' house for my use when I sleep over there, and it serves me well. The shape isn't my favorite but with dat motor, it doesn't really matter.
Speaking of motors, We-Vibe's made one of the only existing couples' vibes with an actually good one: the We-Vibe Sync. This is my #1 recommendation for people looking for a couples' vibe or a toy that can be controlled long-distance. With their We-Connect app and Bluetooth connectivity, We-Vibe has perfected this functionality in a way other companies have failed to. The toy stays connected, does what it's supposed to do, and is controlled via an intuitive and exciting mobile interface. As someone who's had multiple long-distance beaux this year, this toy has been an important one for me!
Some other favorites of mine from the We-Vibe catalogue: the rumbly and usefully-shaped Gala, the G-spot-targeting Rave, and the dually-stimulating Nova. To be fair, they also released a few toys this year I'm not as fond of – like the Wish, with its finicky motors, and the uncomfortably-shaped Ditto – but, for the most part, they are always pushing themselves to make better products, and seem to take customer feedback into account. When a new We-Vibe product comes out, even if I'm skeptical, I'm always at least curious.
I knew my We-Vibe love had become part of my brand when, the other night, after some thoroughly unraveling phone sex, a long-distance beau asked me, "What vibe were you using? The Tango?"
"Yep. I love it," I said. "I have two."
"Alright," he countered. "No need to brag."