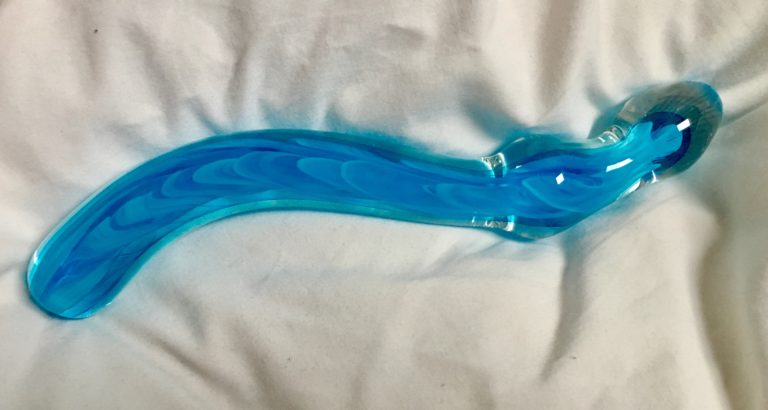 Never buy someone a sex toy they haven't specifically requested. You can't know what someone's tastes in toys are. You can't know what will work for someone else's body. It's always better to buy them a gift card, or take them shopping, and let them pick out a toy for themselves.
Unless you're my best friend Bex, in which case you can disregard everything I just said, apparently.
During my last visit to New York, Bex presented me with a handmade S-Curve dildo by Standard Glass. "It's your favorite shade of turquoise," they said, "and it'll hit your A-spot!" I was stunned. It was a gorgeous, thoughtful gift – the kind of toy I would have picked out for myself. How did I get so lucky to have a friend as good as Bex?
We were hanging out with my FWB, with whom I had a sex-date planned for the following day. "You should fuck me with this," I chirped at him. But he's a Responsible Adult so he just nervously eyed the hard tile floor we were standing on and said, "Please don't drop that." I slipped the toy back into its gift bag to appease him: "Okay, dad."
The next night, at the hotel we'd booked, I broke out the S-Curve. "So how does this work?" my fuckpal asked, and I shrugged and said, "I don't know! Let's find out!" He lubed the long, smooth end of it and slid it into me, curve facing up to access my A-spot. Moans spouted from my mouth immediately. Oh, yes.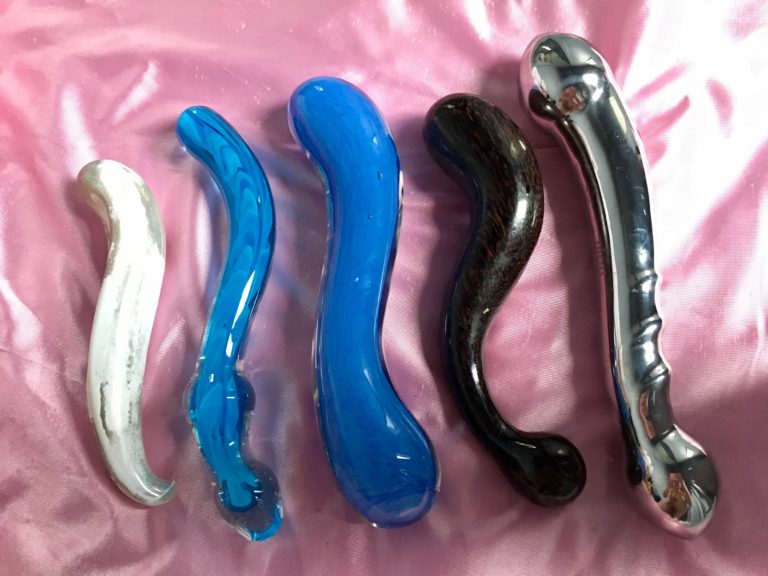 As its name suggests, the S-Curve has a gentle sloping "S" shape. Many of my favorite toys do, in fact; I definitely have a "type" when it comes to dildos. The formidable metal Njoy Eleven, the heroically G-spotty NobEssence Seduction, and my beloved Fucking Sculptures Double Trouble all have this basic shape in common. What can I say? I know what I like.
The S-Curve's similarities to the Double Trouble are all the qualities I love about it. It's long enough, and has a subtle enough curve, that it can get all up in my A-spot without bothering my cervix. (It can also hit my G-spot if I thrust it more shallowly, though I usually don't.) Like another S-shaped glass toy I love, the Fucking Sculptures G-Spoon, the S-Curve's meager 1.25″ diameter is roughly equivalent to the size of two fingers – i.e. the exact number of fingers I request and enjoy most when partners are fingerbanging me – so it hits my spot brilliantly and I can fantasize about partners fingering me to my heart's content when I use it.
My FWB calls the S-Curve "the Double Trouble on easy mode," and for my intents and purposes, it is. It goes for my A-spot with the same precision and deftness, but because it's slimmer, lighter, and has that bloopy end, it's much easier to hold onto and thrust with. If I'm craving a side order of girth with my A-spot stim, I'll still reach for the Dub Trubz – but if all I want is targeted stimulation of one particular internal spot, it gets the job done perfectly.
All S-Curves, while handmade, are basically the same dimensions – 8″ long and 1.25″ wide. It is a glass masterpiece, a beauteous work of art. I don't need my sex toys to be beautiful, because I don't spend a lot of time actually looking at them while I'm using them, but it's nonetheless nice to have something so elegant-looking on my nightstand.
Bex is still the only person on earth I would trust to choose a sex toy for me. They knocked this one out of the fuckin' park.
You can buy the S-Curve at the Smitten Kitten for $120 USD!