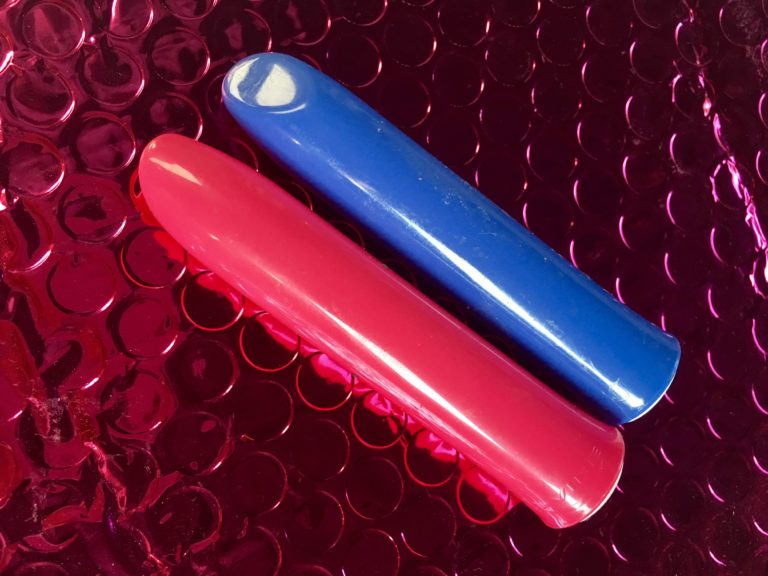 I'm moving to a new home next week, and while I've packed up almost all the sex toys I'm planning on bringing, there were a few items I just had to leave out incase I needed them sometime before leaving. Among this group of exceptional outliers is my duo of We-Vibe Tango vibrators.
I got my first Tango just over five years ago, and it was love at first orgasm. I've owned a total of four Tangos in my masturbatory career – due to, it must be said, these toys' one major flaw, their less-than-stellar battery that tends to give out after 2-3 years. But the Tango is one of those rare toys that I'm happy to keep re-buying every few years if I have to. The orgasms it provides are so deep, delicious, and consistent that they're worth shelling out for.
Here are the 10 biggest reasons the Tango remains a bedside staple of mine, all these years later…
It's strong. Like, shockingly strong for such a small vibe. There are only a few other bullet-sized vibes this strong that I can think of: the Jopen Lust L2, Swan Wand Mini, ScreamingO Charged Vooom and VeDO Bam. There's also We-Vibe's other mini-vibe offering, the Touch, though it's made of soft silicone instead of hard plastic so it doesn't conduct vibration as well as the Tango. Suffice it to say, the Tango is easily one of the strongest vibrators you can get at this price point or this size.
It's rumbly. This is a different consideration from vibration strength; it's the quality of the vibrations. The Tango rumbles, thrums, pounds against your body; it does not cause near-instant numbness like buzzier vibes do. What's remarkable about the Tango is that it remains rumbly even at its higher speeds. This is ultimately what makes the Tango indispensable to me: almost nothing else is this strong and this rumbly, and certainly nothing else of this size.
It's small. The Tango is my most-used toy during partnered sex. This is partly because it's one of my most-used toys overall, but also, it's particularly well-suited to partner play because of its size. It slots easily between bodies during intercourse, can be tucked into a pocket or purse at a moment's notice for a sex-date, and doesn't get in the way if I'm pairing it with a dildo or a partner's fingers.
It's waterproof. As a diehard fan of the bathtime wank, this is an important consideration for me. What's more, being underwater doesn't seem to dampen the Tango's vibrations much, if at all.
It's rechargeable. This is pretty much a requirement for me; I don't fuck with battery-powered vibes anymore if I can help it. The Tango's finicky charger used to bug me, but a We-Vibe rep taught me a trick to make it easier to use, and now I have zero issues with it. Yay!
It has a versatile shape. I most often press the Tango's flat tip against the right side of my clit, but there are tons of other ways to use it. You can play with the pointed tip or the broad rounded side; you can lay it against the whole length of your clit or just one specific spot. So many options!
It's quiet. Particularly for a vibe this strong, the Tango is uncommonly quiet. It's still audible, yeah, but it's certainly no Le Wand.
It can be used in other toys: anything that has a hole/slot/sleeve for a bullet vibe. This includes, for example, some vibrating cock rings, butt plugs, harnesses, and dildos. Throw out the shitty, buzzy bullet that comes with these toys, and grab a Tango instead. It's strong enough that you'll be able to actually feel the vibrations through the toy.
It can be used hands-free. We-Vibe's own Dusk attachment allows for hands-free orgasms, as Epiphora first chronicled in her review. Depending on your anatomy, you may also be able to pull off this neat trick I do sometimes: I can tuck the Tango between my outer and inner labia, and it'll more-or-less stay put while I scroll through dirty fanfiction, click around porn sites, and so on. Magic!
Are you a fan of the We-Vibe Tango? Why or why not?