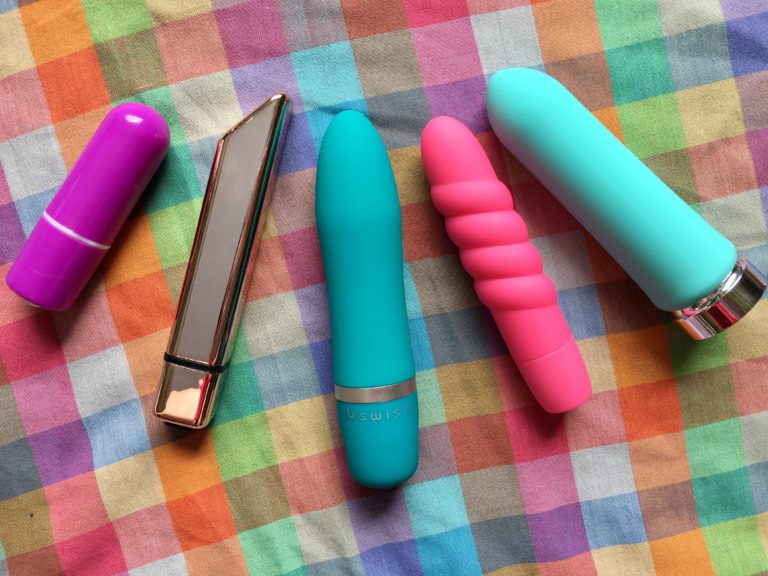 When it comes to sex toys, you get what you pay for. There's a reason my favorite toys range in price from $79 to $299. True, many of these are so pricey that I'd have to save up for them for months if I wasn't a sex toy reviewer, but they're so good that they'd be worth it.
That said, not all cheap toys are bad. When people come into the sex shop where I work and want to buy a vibrator without spending an arm and a leg, I always recommend the Turbo Glider and the Orchid G, two low-end vibes that I know are actually pretty decent. My first-ever glass dildo cost me about $25, and made my vagina very happy for years. You don't have to spend a zillion dollars to get something good; you just have to know what to look for.
I've partnered with Peepshow Toys to review five vibrators today, all under $30. I got to choose which ones I wanted to review, and aside from price, I had just two mandatory criteria: all the vibes had to be made of body-safe materials, because nary a phthalate nor a porous toy shall ever touch my bits again, and they all had to be waterproof, because I use toys in the bath fairly often. I picked five that met my standards, put 'em to the test, and was pleasantly surprised by (some of) my findings!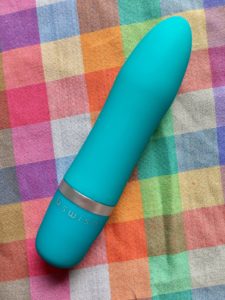 The B Swish Bcute Classic is the cheapest vibrator of all those mentioned in this post, at just $16. It requires one AA battery (not included) and is made of soft, smooth silicone and ABS plastic. The design is pretty classy and luxe-looking for a $16 toy, and I like the emerald-green color. Size-wise, it's a happy medium between a bullet vibe and a classic insertable "smoothie" vibrator: you could use it internally if you like your penetration on the shorter, thinner side, but I only use mine externally.
Unfortunately, this vibe's performance befits its low price point. It has the fewest vibration patterns of any vibe mentioned here (only two, plus three steady speeds), and it's also the weakest and buzziest of these vibrators. Even on the highest speed, my clit barely registers that there's a vibrator on it. This is exactly the type of vibe I try to steer first-time toy users away from, because if you thought this is what all vibration felt like, I wouldn't blame you at all for thinking vibrators just aren't your cup of tea. NEXT.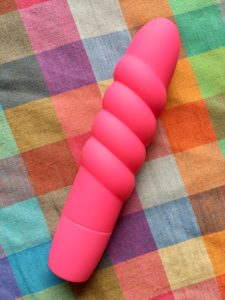 The Maia Twistty Madison invoked my rage instantly with that extra "T" that looks like a typo, but that's not the only reason I hate it. First of all, it's hot pink, which, no: enough already. It's also got a ripply texture to it. There are definitely people out there who enjoy clitoral texture, or who would use a vibe this small internally, but I'm using it as a clit vibe and prefer those to be untextured. Thirdly, it's got a showy LED light in the base that lights up brighter when the toy is vibrating more strongly, which is honestly pretty distracting and would be an actual goddamn health risk for people with epilepsy, I'd imagine.
The main issue, though, is the motor. (Well, what do I expect for a vibe that takes one AAA battery?) It's weak. It's buzzy. It induces numbness and itchiness in any body part it touches, including my hands as I hold it. It has 7 vibration patterns and most of them are too erratic and strobe-like to actually be pleasurable. Aside from the cute, silky, pink storage bag it comes with, there's really nothing I like about this vibrator.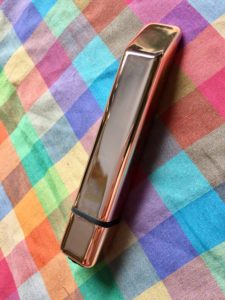 The Rocks-Off Bamboo is the last shitty vibrator I will rant about in this post, I promise. I really wanted to like it, because it's so pretty: rose gold ABS plastic, angular and classy. I like the tilted flat tip (that same feature is one of the reasons I love the Tango), and I like that it's thin enough to potentially fit between bodies during sex but long enough that I don't feel like I'm clawing at it with a T-Rex hand.
But once again, the motor is a sticking point. While it's slightly rumblier than the two vibes above, it's still way too buzzy to get me off. In addition to its 7 patterns, it has 3 steady speeds, which – get this – you have to scroll through in order from highest to lowest. I fucking hate vibrators that work like this, because I never, ever use my vibrators that way: I always start at a low speed and work my way up, and I think that's pretty common! So, while the Bamboo is gorgeous for a $21 vibe, I will definitely never use it again.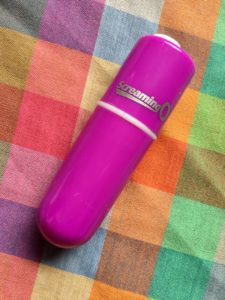 Okay, now let's get to the good stuff. The ScreamingO Charged Vooom, despite its silly name, quite impressed me. It's the rechargeable version of their standard Vooom bullet, and is so damn much better, as rechargeable vibes are wont to be. It's pink, but it's a deep, sexy, purply-raspberry pink that I actually like. It charges via USB with a cable that you have to stab through the little silicone hole at the bottom. Its one button cycles through 3 steady speeds (arranged goddamn properly, i.e. from low to high) and 7 patterns. Like the Twistty, the Charged Vooom has a light in its base which brightens and dims depending on the setting you're on, so I wouldn't recommend this one to folks with photosensitive epilepsy.
And the motor. HOORAY FOR THIS MOTOR. It's not Tango-rumbly, but it is pretty rumbly for a $29 vibe. I can actually feel it thrumming against my clit and activating my internal clitoral structures instead of numbing me out. I can get off with this toy, consistently and easily, which is far more than I can say for any other vibe in this post thus far. It's also the quietest one of the bunch. And because it's the only one of these vibes that's a standard bullet size, I'll be able to use it with toys that have a hole for a bullet, like the Tantus Echo or the We-Vibe Dusk. YAY!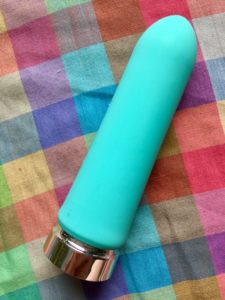 I saved the best for last, y'all. I got an excited email a while ago from a reader who said that the VeDO Bam rivals the Tango, and, well, you know me. I love my Tango. That shit got my attention. Like the Charged Vooom, the Bam costs $29, is rechargeable, and has 3 steady speeds and 7 patterns. But it's thicker and longer – big enough that I could use it internally but small enough that I probably wouldn't – and the motor is better.
It's really kind of remarkable. I want VeDO to send their motor engineer(s) to give talks for other vibrator companies, to explain how you design a great motor for a cheap vibe (or for a vibe at any price point, frankly – even luxury toy companies sometimes fuck this up). It's a little buzzier than the Tango, but still plenty rumbly and plenty strong. It gives me orgasms easily, quickly, and consistently. For TWENTY-NINE DOLLARS. Damn, VeDO! You done good!
Though the motor rules, the controls interface could be better-designed: you have to cycle through all the modes one by one to get to the one you want, the 3 steady speeds are arranged from high to low (?!), and I wish the patterns' intensities could be adjusted. But that's asking a lot for a $29 bullet. Aside from those quibbles, I adore the VeDO Bam; I've been using it almost as much as my Tango lately!
What are your favorite cheap vibes?
These toys were sent to me by Peepshow Toys in exchange for an honest review.